Rock band members fulfilling lifelong dreams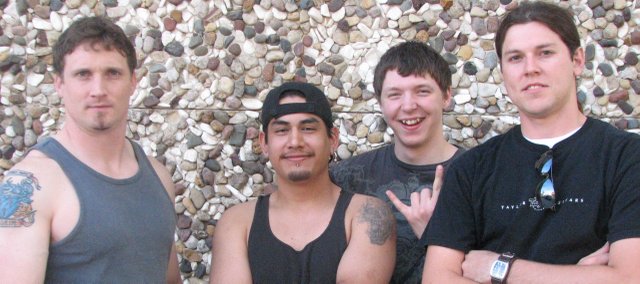 A local band has been making noise, in more ways than one.
The four members of H GAGE will soon be on their way to Hollywood after winning a California Dreamin' contest April 3 at Aftershock Bar and Grill in Merriam. The success gained in the contest is among many accomplishments the band has seen lately.
The roots of H GAGE stretch back nearly 10 years when lead singer David Pilgrim began writing his own music. After moving in and out of several different states, Pilgrim returned to Kansas City and eventually to Basehor to form a band that would take him to the top.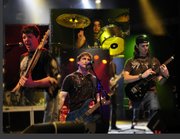 "We were all mutual friends," Pilgrim said of the band's members. "We pulled it together, and we've been strong ever since."
Pilgrim is credited with coming up with the band's name. He said he had been using an h-gauge to measure products at work, and he started thinking about how people are subject to the same measuring processes.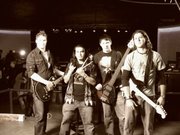 "We all have so many gauges in our lives and so much criticism," Pilgrim said. "I started looking at different spellings for it and found 'gage' means 'defiance.' I thought it was perfect, but I needed to think about what the 'h' would mean. Then it hit me: human defiance. That's exactly what we're about, defying the rules and gauges in life."
Guitarist Dustin Taylor, of Perry, describes the band's style as modern rock, a progressive, melodious genre of music.
"I think we all have our influences from the radio, but we definitely have our own sound," Taylor said.
And that unique sound carried the band through numerous local performances and several rounds at Aftershock to seal their victory and their seats on a plane to California where they will play for a crowd at The Whiskey on the Sunset Strip.
Coming off a strenuous National Icon contest in Lawrence the week prior to the Aftershock competition, the four men were less than enthusiastic going into their first round.
"We weren't necessarily bummed out, we were happy with second place (in National Icon), but we were burned out," Taylor said. "We'd been doing so much, we were just tired."
Their spirits were lifted, however, when they got on stage and started growing a following each additional night they advanced in the contest.
"By the last round, we had T-shirts made, we sold about 100 tickets, we had a huge crowd, we dominated," said bassist Samuel Gomer, Edwardsville. "You could tell our stage presence was just like nothing else."
Despite their confidence, the band members were surprised and humbled by the announcement of their victory.
"The first thing I thought about, seriously, was Kelly Clarkson, 'A Moment Like This,'" drummer Chris Quijas, Kansas City, Kan., said with a laugh. "It was amazing. I mean we're living our dream, and what better way to live life?"
In the next three weeks, H GAGE will be finishing its first album. Then begins the hard part, Pilgrim says, of playing continuous shows and striving to get the band recognized. Each member agrees he is in this for the long haul, in it for a lifetime career of playing music, entertaining "the best fans," and turning dreams into reality.
"We're serious about this," Taylor said. "H GAGE just has it. We're in sync with each other, and we really understand each other. Hard work does pay off."
Quijas echoes Taylor's thoughts about the process, saying their hard work will take them places.
"It's a long way to the top if you want to rock and roll," he said.
For more information, and H GAGE photos, go to myspace.com/hgage or facebook.com/hgagemusic. For booking information, contact Cathi Pilgrim at (913)269-2323 or cathipilgrim@aol.com.