Safe driving at helm of campaign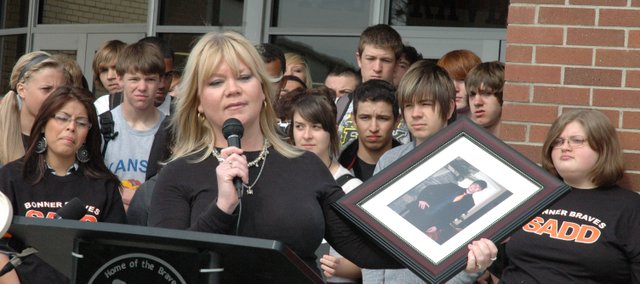 Every year, more than 5,000 teens and young adults, ages 16 to 20, are killed in car accidents, and five highway safety departments in the Midwest have decided to do something about that.
Bonner Springs High School was the site Friday morning of a news conference introducing a new youth driving safety campaign called Mobile "Eyes," Every Youth Exhibiting Safety.
The campaign — a collaborative effort between highway safety departments in Missouri, Kansas, Iowa, Nebraska and Arkansas, along with the National Highway Traffic Safety Administration, businesses and schools — will focus on promoting good driving practices and informing teenagers about the dangers of not wearing a seatbelt, drinking and driving and speeding.
Speakers at the conference included Romell Cooks, with the Midwest region of NHTSA, Larry Sauer, director of the Iowa Governor's Traffic Safety Bureau, and Mike Sharp, Jackson County, Mo., sheriff.
Cooks said teenagers were more susceptible to becoming victims of car crashes because of their age.
"Mile for mile, when we look at our teen-involved crashes, they are three times as many fatals as there are of all the other drivers," she said. "And teens are vulnerable because they are rambunctious, because they see themselves as invincible, because they're oftentimes inexperienced. And when you combine that with things like alcohol, speeding, not wearing your seatbelt and distracted and drowsy driving, among other things, that makes them particularly vulnerable."
Also speaking was Amy Marrs, a mother from Pittsburg whose son Brandon was killed in 2008 prior to his 18th birthday while driving while intoxicated.
"Brandon was our only child and the love of our life, and I never, never, never thought this could happen. But it did," Marrs said.
It was Marrs' story that really brought the message home for BSHS junior Chelsea Crawford.
"I thought it touched a lot of people, especially about learning the personal stories," Crawford said. "It's kind of like a reality check for a lot of people, because you don't realize it could happen (to you). One decision."
What also brought the message home for the teens who attended the conference was "The Seatbelt Convincer," a device that simulates the effects of a car crash at 5 mph. Several teens volunteered to take a ride on device, where they were strapped into a seat that was released and after about a three second ride, would hit a stopping point going only 5 mph. The force of the impact was hard enough to make at least one teen have to catch herself before shouting an expletive in front of a captivated audience.
"Mother-father!" shouted senior Alisa Sutler after feeling the impact, which was much harder than she had expected.
Under the Mobile "EYES" campaign, posters outlining its purpose will be distributed throughout schools in the Midwest region and pledge cards asking students to sign their name as a promise to not take part in dangerous driving practices will be placed in schools and businesses. Other specific campaign activities will vary state by state.
Cooks said the campaign would also direct everyone, including business owners, those in law enforcement, parents and even students, to have a hand in keeping teens safe.
"Young people are our treasure, and we all have a stake in promoting their safety," Cooks said.