Students see fruits of their labor in quilt-form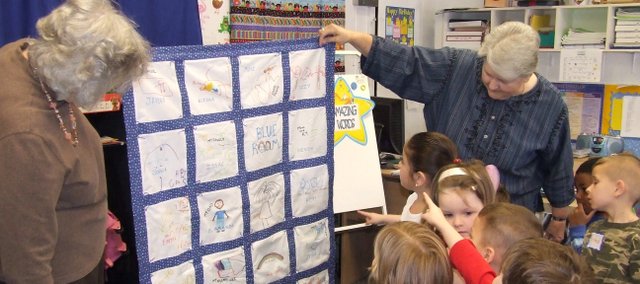 Yells of "thank you!" echoed through the halls of the Bonner Springs Head Start building Thursday as the students got to see their artwork turned into masterpieces.
Two members of the Senior Center — Twila Williams and Jean Bush — visited the students to show off what became of a new partnership between two different age groups.
Back in November, each Head Start student decorated a small block of fabric. Designs ranged from drawings of family members to interpretations of what they're most thankful for in life. The blocks, with each student's name printed in big letters, were then turned over to the Senior Center, where a committee of members, led by Williams and Bush, turned the blocks into quilts.
"It was a great partnership," said Head Start teacher Tammy Griffin.
A quilt was made for each of the four classrooms and was trimmed in the color — either red, blue, yellow or green — that was given as a name to each room at the beginning of the year.
Griffin said the partnership between the Senior Center and Head Start started because the students were working on a unit about quilts. Learning about the different types of quilts and what they can represent led Head Start teachers to the idea of the students creating their own versions of the art they were seeing in pictures.
As the idea developed, Griffin said she realized she was in need of expert sewers and asked the Senior Center for its assistance. Not only did she find a skill she needed for the project, but Griffin said working together in groups is an important lesson the Head Start program tries to instill in its students.
"We talk about coming together as a group because we can see just how much we can accomplish as a team," she said.
Both groups said Thursday they would like the partnership to continue in the future and branch out into other areas.
"I just love kids," Bush said. "I get such an enjoyment out of it. Sometimes seniors get lonely but volunteer work helps with that loneliness and seeing kids always makes it better."
Williams said the Senior Center likes to be involved with youths in the community and feel a sense of accomplishment when giving back.
"We do the scholarships for the high-schoolers," Williams said, "but I think we have a better relationship with the little ones because they're easier to please."