VFW

honors students, members at banquet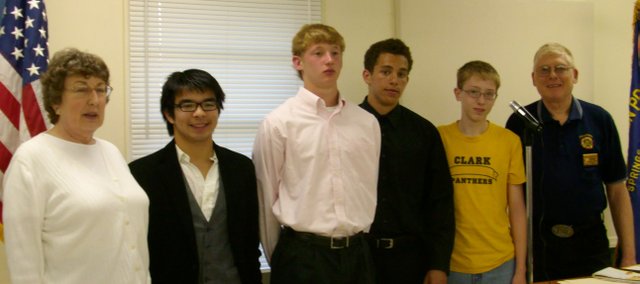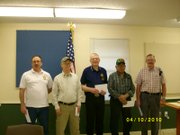 The Olsen-McGraw-Thompson-Goins Veterans of Foreign Wars Post 6401 and Ladies Auxiliary met Saturday, April 10, for their annual supper and awards banquet.
Following dinner, awards were presented to the following:

Patriot's Pen Essay (scholarship for middle-school students)
• First place: Peter Jenkins, $100 and certificate.
Voice of Democracy Audio Essay (scholarship for high-school students)

• Third Place: Johnathan Jackson, $75 and certificate
• Second Place: Joseph Dooley, $100 and certificate
• First Place: Xavier Capalla, $250 and certificate.
The meeting concluded with special recognition made to the following VFW members who have given their time to be leaders of the post:
• Past Post Commanders: Pete Gomez, 3 years; Jim Jenkins, 4 years; Larry Hollenbeck, 3 years; and Don Norman 3 years
• Quartermaster: Sam Summers, 21 years.
The leadership of the Post's members has led the group to excel as an active part of community service in the Edwardsville/Bonner Springs communities. The Post has been recognized 11 times by the State of Kansas VFW as an "All State Post" and one time by the National VFW as "All American Post." A Post must excel in community service and maintain 100 percent or better in membership to attain these recognitions.