Basehor library to offer nonbook-related series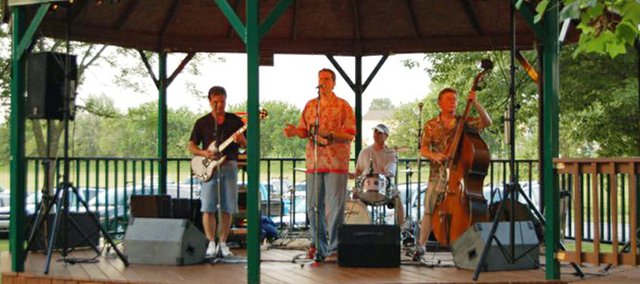 The Basehor Community Library has several summer activities planned for the community that have nothing to do with books.
Each month, the library organizes live concerts in the Basehor City Park. Adult services librarian Laura Carroll said the concerts were a success last year and were already drawing a nice turnout this summer.
"The library has always had a good response to the summer concerts," Carroll said. "We average about 100 people per concert. This is truly a service of the library."
Not only can people listen to professional bands at the events, but there is also food and beverages available, which are usually provided by the Basehor Veterans of Foreign Wars or the library's teen advisory group.
The concerts are a community effort, Carroll says, as local businesses contribute each year.
"This year Lynne Sebree of American Family Insurance, First State Bank and Trust and Community National Bank all made donations toward the concerts," Carroll said. "We encourage any business or individual to donate if they are interested."
Everyone can find something they'll like during the events, Carroll says, because the library chooses a wide array of bands, from jazz to country to classic rock.
"I use a variety of sources to find a band (like) websites, bands I have seen perform and bands that we have had in previous summers that were well received and bands that are recommended," she said. "We have offered a variety of music."
In addition to the tunes and treats, attendees will be able to participate in the Basehor Historical Museum's farmer's markets at the library's last two concerts of the summer. The museum will set up its markets as the concerts begin to allow the community a chance for Friday night shopping.
"The Basehor Historical Society's Farmers' Market will be open for business in the park during the next two concerts, so you can make an evening of it," Carroll said "Shop for fresh produce, enjoy a snack from the VFW and listen to great music, all in the park." 
The next two concerts will be from 6:30 p.m. to 8:30 p.m. Friday, July 9 and Friday, Aug. 8 in the city park on Leavenworth Road. Bolt Upright! will perform July 9, and Motion will take the stage Aug. 8.
"(Bolt Upright! is) a Basehor area favorite and provides a great show," Carroll said. "Motion plays a great mix of music: classic rock, dance tunes, oldies."
For more information, go to basehorlibrary.org.