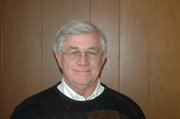 Though he was expected to preside over Monday night's Bonner Springs City Council meeting for the first time since suffering a small vessel stroke in May, Mayor Clausie Smith spent the evening back at the hospital.
During a workshop prior to the meeting, city manager John "Jack" Helin told council members Smith had been asked by doctors to remain at the hospital during a Monday morning check up. "Nothing's happened to him," Helin said of Smith, but he said doctors had wanted to keep him at the hospital for observation after a check up of his lungs.
City Council President Jeff Harrington described the hospital stay as a "small little set back," suggesting Smith's second time around at the hospital was nothing serious and was simply a cautionary measure.
• Additional updates of Smith's condition can be found in the July 15 issue of The Chieftain.