Exhibit hopes to garner interest in various Kansas River artifacts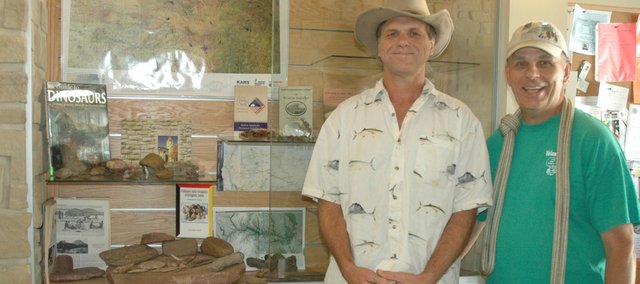 Though the exhibit may provide more questions than answers, Bob Burkhart and Tom Farris, members of the environmental organization Kaw Valley Heritage Adventuring, say that is exactly the point of "Spirit of the Kaw," a showing of Kansas River artifacts on display at the Bonner Springs City Library.
"This is just to whet the appetite or the imagination," Burkhart said of the exhibit that includes objects such as seashells, petrified wood and possible dinosaur and woolly mammoth bones.
The objects were found during a period of six years by Burkhart and Farris, who are major Kansas River enthusiasts, as they explored sandbars of the section of the Kansas River between Kansas City and Lecompton. The two did a lot of research on their own but are still in the process of fully authenticating the bones, for which they are working with the Museum of Natural History at Kansas University. But they say having on display unauthenticated objects can only serve to make people curious about history and the great outdoors, with the hope being they will want to learn more.
"(This exhibit) represents a whole lot of eco-history that goes back more than a millennium," Burkhart said of why people should be interested.
The exhibit also includes maps of Kansas, including a satellite view that demonstrates how different environmental elements of the state depend on each other. Books relating to the different artifacts are also displayed.
Burkhart and Farris are strong promoters of and believers in the national initiative "No Child Left Inside," and are on a mission with this exhibit to promote outdoor activities such as canoeing, camping and hiking. This is the first time the exhibit has been displayed, but they say they hope to also show the artifacts at other libraries throughout the area.
"Our goal here is to convert spectators into participants," Burkhart said. "To make sure they're engaged with their environment and their history."
The exhibit will be on display in the lobby of the Bonner City Library through the month of July. For more information, or to schedule a tour of areas of the Kansas River where the artifacts were found, contact Farris at (913) 709-9982 or tomfarris@myway.com.