Students practice their French in Canada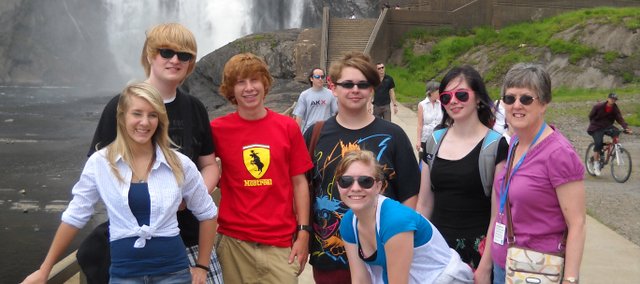 With a few years of French under their belts, a group of six Bonner Springs High School students recently ventured to Canada to test their knowledge.
With BSHS French teacher Marsha Nelson at their side, the students left for Montreal and Quebec City in Canada on June 23. Between the sites, food and practicing a foreign language, the students got first-hand experience that other students only get to hear or read about.
"The trip really was wonderful," Nelson said. "The kids loved it."
This was the second year Nelson and her husband, David, have taken a group of BSHS students to Canada. All the students who attended are either entering French 3 or 4 classes at school next year.
The trip started in Montreal, where a tour guide took the students on a bus tour throughout the city. The students would later take the bus about four hours north to Quebec City, where the city tour took place on foot because of historic aspects like cobblestone streets.
Some of the highlights of the trip included tours of the Chateau Frontenac, the former home of the winter Olympics, the Notre Dame Basilica and the Civilization Museum.
During the trip, the group saw an outdoor performance of "Cirque du Soleil," an acrobatic dance show that was set up under the overpass of a highway.
Nelson said performers were hanging from the overpass for many of the stunts, which were taking place around the audience in all directions.
"The kids absolutely loved that," Nelson said.
As a French teacher, a big point for Nelson was to see the students practice their use of the language. She said the breakfast and dinners were provided by the tour company the trip was set up through, but for lunch, all the students ordered their meals in French.
"It was fun for them," Nelson said of practicing French. "It was very exciting to see that. At one point they thanked me for teaching them what they needed to know, which of course makes me feel proud to be able to do that."
In addition to language, Nelson said the trip focused on food and culture.
Nelson said the group went to a "sugar shack," where maple syrup is made, and had an authentic Canadian meal. Nelson said between the scrambled eggs, pork rinds, bean soup, meat pie, pickle and fruit relishes, and sausages, the students got an extensive taste of the Canadian cuisine.
"A lot of the trip was geared toward learning about culture," Nelson said. "The tour guide told us a lot about food and a lot of us tried different things."

Overall, Nelson said the trip was an opportunity for the students to get new experiences.
"For a lot of them traveling abroad was a new experience," Nelson said. "They were just awed by the beauty of the place. The air is so clear compared to what we're used to. They enjoyed the history part of it and getting to practice French."