WWII

-era munitions safely detonated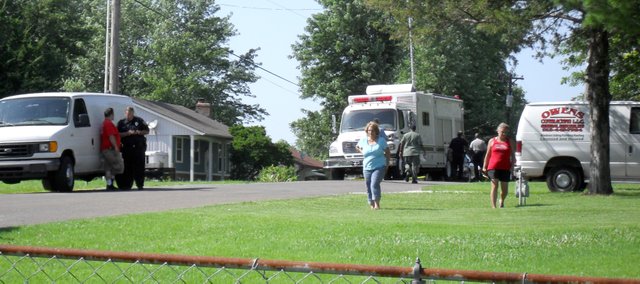 Russ Owens, owner of Owens Contracting in Bonner Springs, has seen a lot of strange things in his line of work, but what he found Sunday was the strangest.
In the basement of one of the homes he was working on in Kansas City, Kan., Owens found a small, but potentially dangerous, piece of history.
"You just never expect to find something like a live missile," he said.
What Owens had accidentally stumbled upon was a World War II-era bazooka round and an accompanying WWII-era grenade.
He said the grenade and the bazooka round had holes drilled into them so he thought they were safe.
He kept the explosives in his truck overnight and on Monday morning he called a friend at the Bonner Springs Police Department to look at his findings.
He said that he didn't want to put the round in the trash in case it was dangerous.
The officer came to inspect the ordnance and a short time later more Bonner Springs police, members of the Kansas City Kansas bomb squad and even military ordnance disposal teams converged on the blue house in the 700 block of North 141st Street.
Officials inspected the ordnance, which was still in the bed of Owens' truck, and determined it needed to be destroyed. At first, officials told Owens they did not want to move the bazooka round from the truck bed so they were going to destroy it too, but they were later able to remove the round and take it to a nearby, vacant field to be disposed of.
Owens said he was relieved when he found out he was going to be able to keep his truck.
Neighbors were also relieved when the bazooka round was removed safely. "This has been the most exciting thing to happen in our neighborhood," neighbor Jamie Nick said.
She added that she didn't think she was in any danger in the six hours while the police were working on the device.