Bachelorettes vie for chance at reality show roses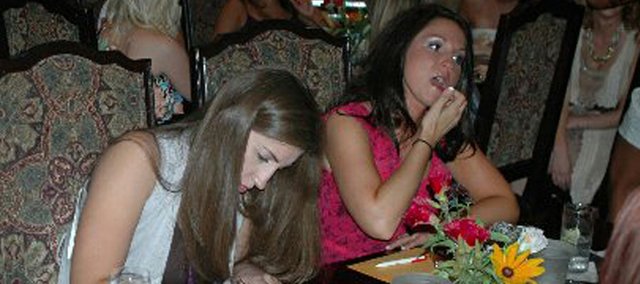 Women, and a few men, from throughout the Kansas City area spent Wednesday evening interviewing to be one of the bachelorettes or bachelors vying for a rose in the coming seasons of an ABC reality show.
"The Bachelor" and "The Bachelorette" had an open casting call from 5 p.m. to 9 p.m. at Renee Kelly's at Caenen Castle in Shawnee.
Renée Kelly, chef, said the event was planned for the castle about two months ago after the Kansas City ABC affiliate contacted her.
"It's an enchanting facility for a romantic show. It's a perfect fit," she said.
Four private rooms were set up within the castle where four-minute interviews with candidates could be conducted, Kelly said.
Kelly expected between 150 and 300 candidates to go through the interview process.
"There's very good energy here," she said. "It's a lot of excitement. It's good to have people here in Shawnee."
Kelly said the event was more than just a normal casting call. The restaurant teamed with Laura's Couture Collection in Overland Park to model wedding dresses and evening gowns.
Instead of long lines, candidates sat at tables and sipped drinks while munching on appetizers and wedding cake.
"We wanted to make it an experience as opposed to a nerve-racking process," she said.
Kristine Ortega came back to her hometown of Shawnee for her sister's wedding this weekend, but on Wednesday she was waiting for a chance to be on television with "The Bachelor."
"It's funny because I came for my sister's wedding, but I got all these e-mails and text messages that they were having a casting call in my hometown," she said. "They had one down the road from me in Colorado but I didn't go to that one."
Meghan Zavodny, Ortega's sister, was close by for moral support.
"Everyone thought she was perfect for this," Zavodny said. "Her friends have threatened to just nominate her."
Rachel Elise, Overland Park, decided to audition just 30 minutes before she came to the casting call.
"I just put the address in my iPhone and now I'm here," she said. "I figured success only comes to those who try."
Elise thought about auditioning in the past after her sorority sisters and mom encouraged her. But first she wanted to finish her master's degree at Kansas State University.
"I just hit the time in life where I was hitting a wall searching," she said. "If you try, over time, your batting average will increase."
Ortega was still nervous for the interview after having her picture taken and filling out paperwork.
"I just don't like the unknown," she said. "Mostly I just want to be myself."