Neighbors: John Robison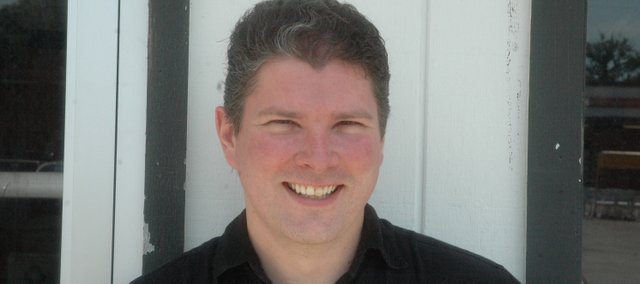 Occupation: Owner of the Roving Imp Theater and Coffee House
Family: Wife, Denise; children, Miles and Ivy
Place of birth: Kansas City, Kan.
Q: When did you move to Bonner Springs, and what brought you here?
A: I moved here in 1996. I was going to (Kansas University) in Lawrence and working at the Bonner Springs Chieftain/Basehor Sentinel, and living in Bonner Springs was a lot less expensive.
Q: What's the biggest risk you've ever taken?
A: Definitely opening my own business. I gave up making money in order to make some art. In the process, I lost a house, declared bankruptcy and had the time of my life.
Q: What's the best piece of advice you've ever been given?
A: Find a way to do the job you want to do. Don't wait until you're old to start enjoying life.
Q: What three things would you want people to know about you?
A: I consider it a personal goal to make my little section of the world a happier, more accepting place. Even though I'm a vegetarian and undercover hippie, I won't try to convert you — unless you ask. I'm just a regular guy following a dream. Come on in and chat for a while.
Q: What did you want to be when you grew up?
A: From the time I was in my first play in second grade, I wanted to be an actor. I'm lucky that I'm able to do just what I've always wanted.
Q: What's your ideal vacation spot?
A: London — I think it's one of the greatest cities in the world. Culture, history, friendly people and it's far enough away that you can really relax.
Favorites
Song: It depends on my mood. Right now it's Barry McGuire's "Eve of Destruction." It's more relevant than you might think for a 45-year-old song.
Color: Red
Food: My perfect meal would be hummus/pita, a big bowl of fruit and hot tea with milk and sugar.