Retired principal takes over Education Foundation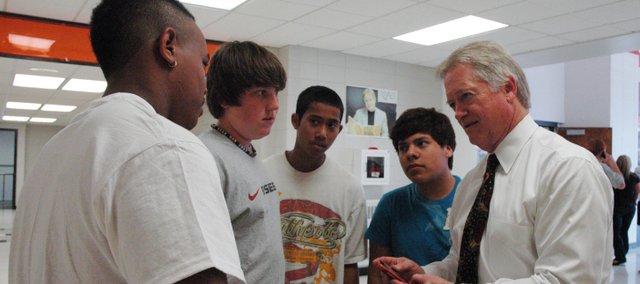 By Melissa Treolo
mtreolo@theworldco.info
Jerry Abbott may have retired from his long-time position as Bonner Springs High School principal, but he still intends to maintain a position of some authority in the district.
Abbott, who retired in May, will take over as director of the district's Education Foundation this coming September. Since its inception, which Abbott said was about 10 years ago, the Education Foundation has provided financial support, through donations and fundraising events, in the way of scholarships for students and needed building materials.
Abbott said he was looking forward to being a part of such a vital component of USD 204. The directorship, Abbott says, will also give him a chance to demonstrate that just because he is retired, doesn't mean he is completely out of the game.

"I still have passion and I certainly have passion about our district and I think we're doing wonderful things in our community at large, and I want to keep my hand in that and support (the district and community) in whatever way I can," Abbott said. "Retirement is to me not shutting off, it is in fact gearing back a bit."
Abbott said he was approached about serving as director by Superintendent Robert Van Maren following the death of Nancy Johnson, who formerly held the position, in March. And before Johnson, there was B.J. Oke, who was the founding director of the Education Foundation.
Goals for the coming year are to "build," as Abbott said, on what has already been accomplished.
He said an executive board would be chosen and then one of the focuses of the Education Foundation would be on connecting with district alumni through newsletters, the school's website and even a possible Facebook page. This would allow the foundation to not only locate those former students who might be willing to give scholarship dollars, but to also serve as a kind of alumni association similar to those associated with colleges.
"Maybe not at that level, obviously, but some interactive way that we can tell everybody what's happening at school," Abbott said, noting that he wanted to provide a way for former students not living in the area anymore to "still keep their hearts back in Bonner, Edwardsville if they can't be there physically."
In this time and in this economy, Abbott said, the Education Foundation may never be more essential to the district's staying power.
"The thrust of the foundation is to support our district and especially our teachers and our students and this becomes really important with the reduced resources the state has been able to give us," Abbott said. "And it's a wonderful opportunity for … those who support our schools and alumni to either leave a legacy or again identify something that is such a wonderful resource, which is our students."
As for how long he will be sticking around as director of the Education Foundation, Abbott, who retired from his position as principal in part due to a heart condition, said he hoped it would be for quite awhile.
"As long as my health is good," Abbott said. "As I say, retirement is to me not shutting off … So, hopefully, (staying on as director beyond next year is) what I'll be able to do."