Retiring teacher criticizes
USD

204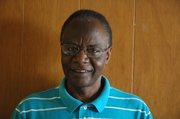 A Bonner Springs High School social studies teacher was unanimously approved for early retirement during Monday night's USD 204 Board of Education meeting. But John Makona had several parting words to impart to the board before taking his leave, none of which included "thanks for the memories."
During the public comments portion of the meeting, Makona told board about issues he felt had been mishandled over the years that led to his retirement.
"I'm going to miss those students. And in fact, those students are going to be surprised that I'm not going to there next year," Makona began before telling the board there were two reasons behind his decision to retire.
The first reason was the Freshman Academy, a program designed for incoming and at-risk freshmen to ease their transition into high school. The program was introduced to its first freshman class last school year. Makona said he originally had been excited about the program and had been one of the first teachers to be involved in its beginning stages, but had since become disappointed with the progress.
"The program was not handled properly. Some of the teachers (who were involved) were just handing out grades," Makona said, claiming that teachers were giving A's and B's indiscriminately to students who hadn't earned them.
Makona went on to claim that when he and other teachers had approached administrators about the problem, nothing had been done. The lack of response, Makona said, had left him disenchanted with a school he had been teaching at for 33 years.
"It's not a high school that I used to enjoy (getting) up early in the morning (and saying), 'I have to go to school and meet those kids,'" Makona said. "It's not that high school anymore."
Former BSHS principal Jerry Abbott, who was contacted after the meeting, said he was "concerned" about the issues brought up by Makona at the meeting, but had been, until now, unaware of them.
"I have no recollection of anyone ever talking to me about excessive grades from the Freshman Academy," Abbott said, noting that he had always had full confidence teachers were handing out appropriate grades.
"I support what our faculty assessed as (each) student's progress," Abbott said. "That program has had impact, I think a very positive impact, for the first year, and really and truly I think that we will retain a larger portion of the (class of 2013) than we've been able to keep together in classes past."
Makona stopped just short of calling the district racist when he claimed his second reason for leaving was the lack of black teachers who have been hired since 1977 when he started working at BSHS. Makona's retirement will leave two black teachers in the district, one at Bonner Springs Elementary and one at Delaware Ridge Elementary.
"You need to do something about it," Makona said, singling out the two black members on the board, Connie Hadley and Olliea Jarrett, who both chose to respond to Makona's comments.
Hadley said she had always been active, even before serving on the board, in making sure black teachers were fairly represented in the district. She said conditions had improved, despite Makona's claims.
"We're not just sitting here on our laurels," Hadley said. "We can see, and I definitely know, that Bonner Springs is so much better since you've been here than it was when you came."
While agreeing with Makona that there were "some issues with racism" in the district, Jarrett said it wasn't just up to the board to fix them.
"We're all stockholders in education, it's the board members, it's the parents, it's dedicated teachers and it's principals," Jarrett said. "This district is jacked up right about now, but we're all here at the table trying to get things back together."