Saying goodbye to 'Scooter Girl'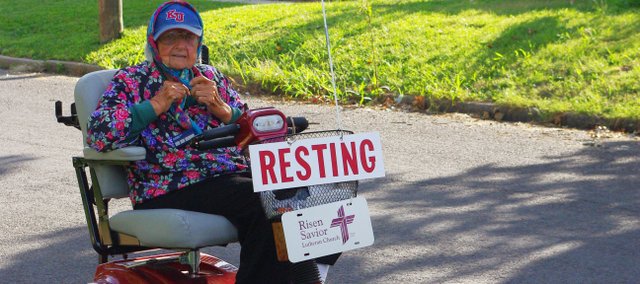 Edna Kloepper was known as many things throughout Bonner Springs: an educator, a giver and a Christian.
More playfully, she was simply known as "Scooter Girl."
"Everybody looked forward to seeing her, even the little kids," remembered Jim Pollock of watching Kloepper ride her scooter around town. "She'd be going by and you'd just see everyone waving at her."
Edna's ride came to an end, however, when her scooter was struck by a car while she was traveling through the intersection of Insley Street and Allcutt Avenue at 6:20 p.m. Friday, July 16. The driver was Michael Mullens Jr., 18, of Bonner Springs. Kloepper was taken to Overland Park Regional Medical Center, where she died the next day.
Kloepper, 92, was born on March 12, 1918, near Nortonville. At a young age she contracted polio, forcing her to wear braces on her legs and use a cane for most of her life. The polio also later led to her use of a scooter.
Pollock, a driver for Tiblow Transit, became friends with Kloepper on the bus. While Kloepper never married and had no children, Pollock said she had a large extended family through all the lives she touched during her time in Bonner Springs.
"She was a landmark," Pollock said. "She didn't have any enemies. She was friendly to everyone."
Kloepper started teaching in the 30s, but moved to Bonner Springs in 1950 when she began teaching at Bonner Springs Elementary School. She retired in 1983 at age 65.
During her 44 years of teaching, Kloepper once estimated that she taught more than 600 children.
While working for the school district, Kloepper met Kenny Tewell, who was superintendent for 20 years. Tewell said he remembered always thinking of Kloepper's students as her "pals."
"She was a very fine teacher," Tewell said. "Very capable and very interested in her students as well as her community."
Tewell there were several years when the district didn't have enough money to afford some of the supplies Kloepper thought her students and her classroom needed. Tewell said Kloepper would go out and purchase the items with her own money, just as way to make her student's education the best it could be.
Another year, when the district gave each teacher a raise, Tewell remembers Kloepper telling him she wanted her portion of the raise to stay with the district.
"I told her we can't do that," Tewell said. "I told her, 'Here's what we'll do. I'll take out a life insurance policy in your name, and when you die we can set up a scholarship fund for you."
One of Tewell's favorite memories of Kloepper was the party she threw for herself for her 90th birthday in 2008.
"It was great seeing her with so many friends," Tewell said. "It was one of her most enjoyable days she had. She always enjoyed being around people. She will be missed by everybody that ever knew her."
Along with her passion for teaching, Kloepper was a dedicated member of the Lutheran Church. She was a member of the Emmaus Lutheran Church in Bonner Springs and when the church united with St. Martin's Lutheran Church in Basehor, she remained a member of the joint venture, Risen Savior Lutheran Church.
The Rev. Robert Weinkauf with Risen Savior said Kloepper "was quite a lady." Weinkauf said Kloepper often talked about how blessed her life was.
"She enriched and touched the lives of so many people," Weinkauf said. "She taught us how to live and to give. I never heard her complain. As one who was stricken with polio as a child, wore leg braces her whole life, never married or had children, never drove a car or able to physically do or have things that many people take for granted each day, she considered herself so richly blessed by God. She would often state, 'The Lord has been so very good to me. What more do I need?'"
Services for Kloepper were at noon Thursday at Alden-Harrington Funeral Home in Bonner Springs.