Spaghetti dinner expected to honor former organizer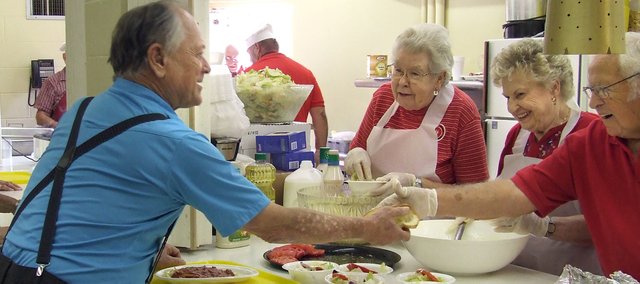 As the 20th annual Senior Center spaghetti dinner approaches, thoughts of the event's original organizer are fresh on many people's minds.
With the death of Nancy Johnson, former Senior Center director, in March, the Senior Center has found itself planning the community tradition for the first time without Johnson by its side. But new director Tina Ashford says the center is coping and finding ways to honor Johnson's memory.
"(The spaghetti dinner) was kind of her baby," Ashford said of the impact Johnson had on the event. "It was one of her ideas and she loved to talk about seniors helping seniors."
After Johnson's death, the Senior Center renamed its scholarship fund the Senior Center/Nancy Jones Johnson Scholarship Fund. With all proceeds from the spaghetti dinner going into that fund, which offers scholarships for graduating seniors from Bonner Springs High School, Ashford said she's expecting the event to draw a big crowd.
"This is our first year without Nancy," Ashford said. "We put the scholarship in her name, so we think we might have a bigger turnout because of that. People want to recognize and honor Nancy, and this is one way they can do that."
This year's spaghetti dinner will be from 4:30 p.m. to 7:30 p.m. Friday, Aug. 6, in the Fellowship Hall of First Christian Church, 148 N. Nettleton.
The all-you-can-eat dinner, which costs $6, includes spaghetti with meat sauce, salad, garlic bread, a beverage and one dessert. Carry-outs are available upon request.
Ashford says members of the Senior Center have put a countdown up in anticipation of the event.
"Everyone is getting excited," Ashford said. "We've got a lot of volunteers, everyone is helping out. We're getting ready and we're getting excited."
Ashford said she's getting ready to place her food order, which is all done through local businesses. Last year's order included 60 loaves of bread, 80 pounds of spaghetti, 50 pounds of beef and 24 large cans of spaghetti sauce.
All the desserts for the dinner are being made by Senior Center members, which Ashford said was reason enough to attend the dinner.
"They're getting the best desserts in town made from the best cooks in town," she said.
Ashford said the event had always meant a great deal to the Senior Center's members who give so much of their time to make it happen. She said from buying locally to giving scholarships to area youths, the Senior Center is committed to giving back to the entire community.
"The seniors take a great deal of pride in giving back to the community any way they can," Ashford said. "The spaghetti dinner has been around for so long, it's part of our center. It's something we always look forward to. It lets the community know we're here and we're ready to support the community just like the community supports us."
Ashford said between extra donations received from local donors and proceeds from the Pinky Run at this year's Marble Days, the amount raised would mostly likely allow the center to increase the number of students receiving scholarships as well as each student's scholarship amount. In the past, Ashford said, $500 was given to two students.
"It goes back to seniors helping seniors," she said. "Education is so important for young people and we want to encourage them to get the best education possible."
For more information , call the Senior Center at (913) 441-0169.