Three-year-old continues strong recovery from barn gate accident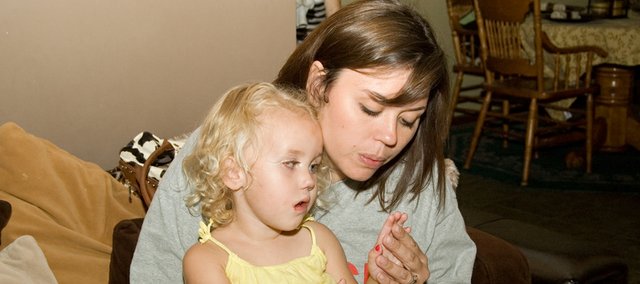 Photo Gallery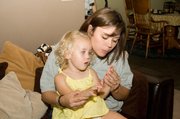 An afternoon with Brooklyn Sickman
Brooklyn Sickman was seriously injured about 10 months ago when an unhinged barn gate fell on her. She continues to recover. These photos capture her activities during a recent afternoon.
Brooklyn Sickman, 3, plays with a dollhouse alongside older sister, Saryn Hernandez, who is 13.
"Let's put the baby in the refrigerator," Brooklyn says, as her sister and her mother, Teresa Sickman, laugh at the suggestion.
It's something someone might expect a child to say. But for Brooklyn, one day playing with a dollhouse and chatting up a storm might have seemed far-fetched about 10 months ago.
This past September, Brooklyn was playing on an unhinged 300-pound barn gate when the gate fell directly on her head. The impact of the gate caused breaks in Brooklyn's cheek bones, sinus cavity, the right orbit around her eye and the back of her head.
She was rushed Sept. 27 from the farm of family friends near Tonganoxie to Children's Mercy Hospital in Kansas City, Mo.
For two months, she remained at the hospital. While there, she battled for her life. The accident caused her to lose sight in both eyes, she had several seizures and was in a coma.
Doctors initially told Teresa and Brooklyn's father, Jeff Sickman, that she wouldn't survive the first few days after the accident. Later, doctors said she would survive, but quality of life would be poor.
Brooklyn, though, defied the odds.
Sight returned to her left eye. Her hearing improved. She continued to graduate to more solid foods and, the day before Thanksgiving, returned home. However, when Brooklyn left Children's Mercy, she couldn't sit up straight on her own, let alone walk.
On Friday, she played with Saryn, as well as brothers Christian Hernandez, 10, and Nicholas Hernandez, 7.
Her itinerary that afternoon: play dollhouse, then hide and seek, eat an ice cream cone, have her sister paint her toenails, play more games with her siblings and then eat pizza Jeff brought home for the family's evening meal.
"She can never be content with anything," Saryn said with a smile.
Making strides
The road to recovery after Children's Mercy has been a busy one filled with continued progress.
For five days each week, Brooklyn has treatment at the Rehabilitation Institute of Kansas City and has enrolled at the Leavenworth County Special Education Cooperative. She also visits a Tonganoxie chiropractor three times a week and is set to start another session at Community Living Opportunities' Midnight Farm near Baldwin City.
Dionne Newton, equestrian program coordinator for Midnight Farm, said that when Brooklyn started her first sessions in the winter, she couldn't sit up on her own and wasn't talking much. After four of the weekly sessions, she was starting to sit up and crawl, Newton said. At the end of the last session in May, Brooklyn was running and had gained back most of her verbal skills.
"I think it's incredible," Newton said. "I know she's been involved in other therapies as well.
"I would never say it's all the horse, but her physical therapist recommended she do the horse riding and she said she has seen tremendous strides she wouldn't have seen in a strictly clinical setting."
Newton said being on the horse helps with muscle memory, balance and strengthening core muscles.
Moving forward
Because of the accident, Brooklyn has a broken bone protruding into her right eye, which prevents her from blinking and producing tears. Teresa applies a lubricant every two hours.
Brooklyn still hasn't completely regained her balance, but Teresa is confident that will come in time.
The accident caused damage to Brooklyn's face, but it's possible that would clear up if her brain bleed dissolves in time, Teresa said.
One thing is for certain, Brooklyn is eager to be involved in many activities. She asks whether the family is going to "her baseball game" when watching her brothers play. Other times, she wants to be a cheerleader at games, following in her sister's footsteps.
Teresa said time would tell whether Brooklyn could participate in various future activities.
Judging by the odds she's overcome so far, Brooklyn's future looks bright.
"They told my mom she probably would have a feeding tube and that she never was going to walk again," Christian said. "But she's been doing all this. She's amazed all of us."