United churches break ground on new building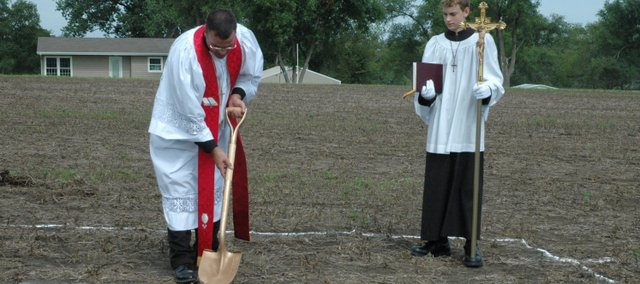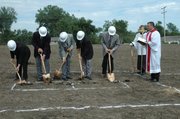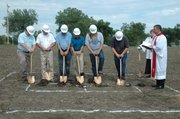 With members from former churches Emmaus Lutheran Church of Bonner Springs and St. Martin Lutheran Church of Basehor watching in the crowd, the Rev. Robert Weinkauf turned the first spade of dirt on a combined effort two years in the making.
Risen Savior Lutheran, which was formed two years ago when the Bonner Springs and Basehor churches united, presented a ground-breaking ceremony Sunday at 147th Street and Leavenworth Road in Basehor, the new site of what will soon be a facility fit for joint worship.
"There's much excitement, eagerness, anticipation and anxiousness for what the new church will be," Weinkauf said. "We're excited about the opportunities the new church will bring."
Risen Savior is conducting services in the former St. Martin church at 14308 Fairmount Road in Basehor. Weinkauf said the building had become too small for the congregation and didn't allow the extra room for community activities to take place.
Weinkauf said when the Bonner Springs and Basehor churches combined in July 2008, both churches were looking for the opportunity for future growth.
"We figured we could do more together rather than each of us doing our own thing only a few miles apart," Weinkauf said.
The former Emmaus Lutheran Church of Bonner Springs was at Kansas Highway 7 and Kansas Avenue, at the site of the new Walgreens in the Bonner Pointe development area.
With the ceremonial groundbreaking complete, Weinkauf said construction of the new church would start immediately. The congregation can expect to move into the new facility, Weinkauf said, by June 2011.
The new facility, to be located on the church's 20-acre property, will feature pew seating for 260 people, a balcony for additional seating for choirs and a 1,020 pipe organ. An 85-foot steeple is planned with a 12-foot crucifix on the front of the tower. There will also be a large gathering hall, office space and education rooms.
Cost of the new church is more than $2 million, which was raised through a combination of land sales and internal fundraising.
As the excitement builds for the new facility, Weinkauf is already looking toward the future. He said he didn't expect it would be too long before phase two of the Risen Savior's expansion starts taking shape.
With the current economy and the continued growth of both Leavenworth and Wyandotte counties, Weinkauf said this was a perfect time to build and the church planned to take advantage of that fact. He said phase two, which could come in as soon as five years, would contain space added on to the phase one building and include recreational facilities.
"I wish people of the church 100 years ago could see where we are today," Weinkauf said. "The legacy and the history of these two churches have brought us here today. I hope we continue to be blessed."