GOP

congressional office seekers downplay political experience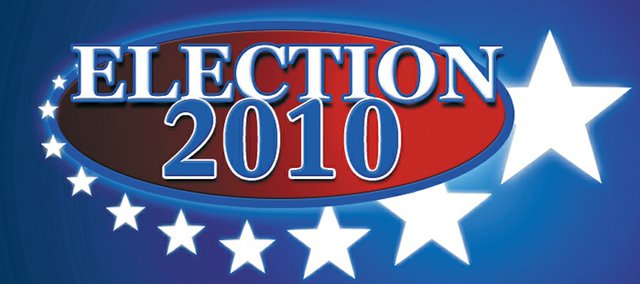 For the Aug. 3 Republican primary election, voters will find the 3rd District U.S. congressional ballot saturated with options.
In the pack
Nine candidates are seeking the GOP nomination in the 3rd Congressional District. Seven of them, listed below, have no political experience.
• Dan Gilyeat
Age: 38
City/residence: Kansas City, Kan.
Occupation: retired disabled veteran
Family: Wife, Ana; seven children
Previous political offices: none
• Dave King
Age: 67
City/residence: Leawood
Occupation: telecommunications
Family: Wife, Karen; two children
Previous political offices: none
• Garry Klotz
Age: 52
City/residence: Lenexa
Occupation: sales manager for social expressions products
Family: Wife, Andrea; four children
Previous political offices: none
• Jerry Malone
Age: 58
City/residence: Leawood
Occupation: retired with degrees in chemistry and finance
Family: Wife, Janet; two children
Previous political offices: none
• Craig McPherson
Age: 26
City/residence: Overland Park
Occupation: business man
Family: none
Previous political offices: none
• John Rysavy
Age: 45
City/residence: Overland Park
Occupation: bio-tech sales
Family: Wife, Cathy; six children
Previous political offices: none
• Jean Ann Uvodich
Age: 52
City/residence: Overland Park
Occupation: lawyer and owner of Ice Sports Kansas City skating rink in Shawnee
Family: Husband, Mark; four children; three grandchildren
Previous political offices: none
Nine candidates are vying for a chance to be the party's nominee for the seat, which is now held by Dennis Moore, a Democrat who chose not to seek re-election. Of those nine, seven are without any past legislative experience, which they say is a reason to vote for them.
"We need more than the stereotypical career politicians," said candidate Craig McPherson, referring to Kevin Yoder and Patricia Lightner, the only two of the nine GOP candidates who have held political office.
A turning point
McPherson, 26, Overland Park, said the country was at a turning point and it was time for a person with new ideas to move in and get the nation back to where it needs to be.
"The voters need to ask themselves who in this field is willing to stand up for principles over politics," McPherson said.
Getting back to a limited federal government and putting more responsibility in the hands of local government is at the top of McPherson's list. He said he hopes to help shift the mindset of individuals away from relying on the federal government and get more people involved in local communities.
'Clear conservative'
John Rysavy, 45, Overland Park, also said his lack of political experience is a positive.
Rysavy said of all of the candidates running, he felt he was the only "clear conservative." Securing borders, getting rid of cap and trade and getting back to a market-driven health care system are some of Rysavy's major goals. In addition, he said he would try to stop government overspending, which he said would create more jobs.
Rysavy said he is the only candidate to participate in town hall meetings in which the focus wasn't on a speech but rather on answering questions. He said he was willing to answer the tough questions and had nothing to hide.
"I'm a guy that can definitely make a difference," he said. "Don't underestimate John Rysavy."
Children's future
Garry Klotz, 52, Lenexa, said he decided to run because he is worried about the future of his children. He said for the first time in his life, he feels like the country is headed down a path that isn't the American way.
"I feel somebody has to stand up and do something," Klotz said. "I'm not a politician and I'm not a lawyer. We already have enough of those in (government). I have a business background and common sense solutions."
Klotz said he thought Americans were looking for someone who understood what it "means to be American." He said government spending is out of control and the new health care reform was only going to create a giant bureaucracy. Klotz said if elected, he planned to support the idea to "unfund" the health care bill.
Reform plans
Jerry Malone, 58, Leawood, said he wanted to be viewed as the "reformer."
"I want to go to Washington and get things back on track," Malone said. "I'm not a professional politician but I believe I can make an impact."
Malone said he has seen an erosion of family life and said the disintegration of values is at the root of problems with the economy.
"We need to get back and find ways to encourage people to live the values that make for a strong democracy," he said.
He said he hopes to inspire people to make changes for the better and hopes to get elected by voters picking a candidate based on their principles and values.
"Someone has to get involved in the process," he said, "otherwise the weak will run the country and that's not a good recipe for a healthy democracy."
Business sense
Jean Ann Uvodich, 52, Overland Park, said she thought the difference between her and the other candidates is that she is a business owner. She said if elected she plans to take her business-minded ideas and transition them into creating a government that takes responsibility for its spending.
"We need strong-willed people to stand up with new ideas," she said. "I plan to cut the fat and streamline government, just the way I did with my business."
Uvodich said she didn't think the government understood what it's doing to small businesses. She said cap and trade would be devastating to small businesses. She also said she doesn't support the stimulus plans in which large corporations were receiving government bailouts.
"It really comes down to no business is too big to fail," she said, "If a business is struggling, it needs to be reorganized through Chapter 11 bankruptcy. We don't need people to be bailing everyone out because they've made bad decisions."
Defending his country
Dan Gilyeat, 38, Kansas City, found himself in the race as a way to continue his promise to defend his country. Gilyeat is a retired Marine veteran who lost a leg during his service in Iraq.
"I took an oath to defend my country and fight for the American people and fight for the Constitution," Gilyeat said. "We've sent some people to Washington who swear to uphold values and then they don't, and the American people are suffering because of it."
Gilyeat said he wasn't looking to advance any political career but just wanted a way to save the country he fought for.
Topping his focus is the creation of jobs. Gilyeat said there are too many people out of work who can't afford the government's spending habits.
"Instead of raising taxes and forcing health care on people who can't afford it we need to focus on jobs," he said.
Cutting spending
The final of the seven candidates saying they have more to offer than political experience is Dave King, 67, Leawood. King said the nation was being destroyed by those in office currently, and he said it all centers around the idea that the government is overspending.
Some of King's ideas to bring spending down are to get rid of the health care bill, the Environmental Protection Agency, the Department of Energy and the Department of Education.
"They are taxing us to death," King said of the government agencies, adding that he would eventually hope to get rid of the Internal Revenue Service as well. "It's unbelievable what they're heaping on our nation."
King said electing a "traditional politician saying the traditional things" was not going to get any changes made in the country. He said the government keeps making the same mistakes and it's time for that to change.
"(The current politicians) are too smart," King said of the mistakes being made. "They are intentionally destroying our nation. Good people have to get in there, treat everyone the same and get the economy going."