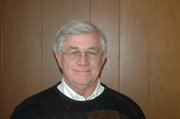 Last week proved to be what Clausie Smith described as the "breaking of a long, long winning streak."
Of not being in the hospital, that is.
The Bonner Springs mayor was ordered May 24 by his doctor to check into Providence Medical Center, after Smith had unknowingly suffered a small vessel stroke. That hospital visit would be the first time since age 5 that Smith, who is now 73, had entered a hospital as a patient, he said.

Two days before going to the hospital, Smith spent the afternoon outside at his grandson's sporting event. Smith said he felt dizzy upon returning home, but didn't think much of it.
"At first I thought I probably had sun stroke," Smith said during a May 27 phone interview from the hospital.
By the morning of May 24, however, Smith's symptoms had become severe enough for him to feel a visit to his doctor was necessary.
"(My wife) Jean took me to the doctor, and the doctor said go straight to Providence Medical Center," Smith said.
After checking into the hospital, Smith said his condition began to deteriorate steadily, to the point he began to lose his speech and control of almost the entire right side of his body.
"It got to the point that I could barely raise my right arm, and I couldn't walk much," Smith said.
Smith's specific type of stroke was diagnosed May 26, and his speech has returned as well as some of his right side function. The prognosis is positive, he says.
"The doctors say there's no reason within a couple of weeks I wouldn't get back to normal," he said.
Despite some side effects he is suffering as a result of the medication — nausea and headache — Smith says he is remaining optimistic, as well, wishing to assure those in Bonner Springs that "I will be back."
"I just want to thank everybody for the outpouring of concern I've had," Smith said. "I've had calls, I've had flowers, I've had letters, cards. It's just been wonderful."
Smith was released Tuesday of this week from Providence and was transferred to Saint Luke's South in Overland Park for rehabilitation. Tuesday afternoon he said it was "too early to tell" at this point when he might be able to return home and resume his position as mayor, but he hoped it would be soon.
Send cards or flowers to St. Luke's South, 12300 Metcalf Ave., Overland Park, KS 66213, room 115.