Team raises funds for cancer using T-shirt quilt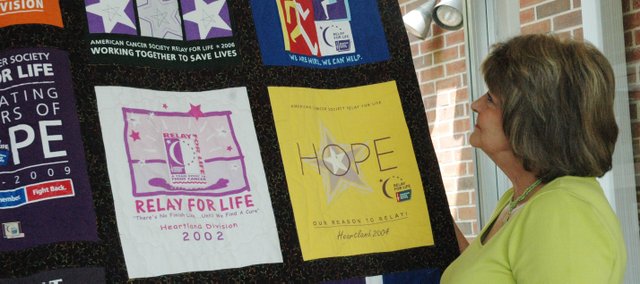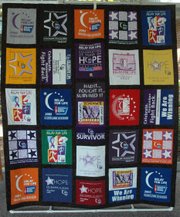 The Bonner Springs United Methodist Church has had a team at the Kaw Valley Relay for Life since the charity event's Bonner Springs beginnings in 2003.
But this year, something unique has been added to the team's fundraising efforts. In addition to reaching out to church parishioners and community members by just asking for donations, the group came up with an idea that had a little more heart.
The church's sewing group, The Grateful Thread, has created a quilt to raffle off using past T-shirts from Relay for Life, which is a 12-hour event that gathers teams to raise money for the American Cancer Society. This year's event will start at 7 p.m. Friday, June 11, at David Jaynes Stadium at Bonner Springs High School.
"It's kind of a unique one," said one of the team's captains, Curt Thacker, about the T-shirt quilt.
The quilt, which sewing group member Connie Zwego said could be used as a throw or on a twin-sized bed, is made up of 25 blocks that have been created from T-shirts with different designs and colors.
Zwego said she quickly agreed when she was asked if the group could make the quilt. Despite not having a pattern to follow like with most quilts, Zwego had made a T-shirt quilt before and knew about some important steps, which include adding a backing to stretchy shirt material so it can be integrated with the quilt's other fabrics.
The group, which meets at 1 p.m. every Friday, started the Relay for Life quilt during winter 2009 and finished this February.
Zwego said she was proud of the finished product, adding it to her many quilting contributions for charity.
"I make lots and lots of charity quilts," Zwego said. "I like making quilts and I'm rather prolific. I can't keep them all and the family has all they need. It's rewarding."
Thacker said the quilt's raffle ticket sales have already brought in about $350 for the team. He said the tickets would continue to be sold until the night of the Relay for Life, where Thacker said the winning ticket would be drawn.
"It's a special deal," Thacker said. "We've got a former relay community leader from here that moved to Texas order some tickets and another contact in Iowa. It's becoming an interstate deal."
Thacker said he was excited for the buzz around the quilt and was hoping this year would turn out to be the team's biggest earning yet, which only means good things for the cause behind it all.
Thacker said being part of a Relay for Life team had special meaning to him. His brother was diagnosed with cancer in 1982 and later died from the affects of long-term radiation. Thacker's wife was also diagnosed with breast cancer and is a 13-year survivor. Most recently, Thacker himself was diagnosed last fall with prostate cancer, but is happy to report he's doing fine now.
"It's one of those things that I think every single person has somebody in their family or a close friend who has fought the battle. I feel strong about supporting this cause," he said.
If anyone would like to donate to the Bonner Springs United Methodist Church's fundraising efforts or to purchase a raffle ticket for the Relay for Life quilt, tickets are $1 each or six tickets for $5. Donors should provide their name, address and phone number and make checks out to the American Cancer Society to be sent to Curt Thacker, 713 Sheidley, Ave., Bonner Springs, KS 66012.
For more about the Kaw Valley Relay for Life, visit the website relayforlife.org.