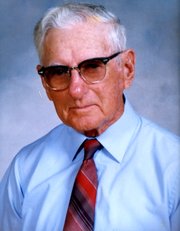 "He was a hardworking man," is a phrase most would attach to their list of memories of James "Jim" Coleman.
And there are certainly a lot of memories to choose from to describe the longtime Bonner Springs businessman who died of pulmonary fibrosis March 17 at his home at the age of 95.
"My dad, there's a lot of things that describe my dad, but hardworking is probably the one that comes (most to) mind," said his son, Del Coleman. "I mean, he worked hard all his life. When he was 17,18 years of age he was following a team of horses 20 miles a day out in the field."
James Coleman had a passion for farming and parlayed that love into a thriving business selling Case-brand farming and construction equipment, which first opened in 1940 under the name Coleman Coal and Feed.
His business still remains open today, under the name Coleman Equipment Company, located in Bonner Springs at Kansas Highway 7 and 43rd Street. James ran the business with the help of his wife and two sons Del and Bruce Coleman.
James had his hand in many other projects outside of work, however. He was a member of the Bonner Springs Masonic Lodge and a longtime supporter of the National Agricultural Center and Hall of Fame, serving on its board of governors for many years, volunteering and also contributing financially throughout his life.
"It wasn't that long ago that Jim was pitching wheat in a thresher for Farm Heritage Day," remembers governing board member Cathi Hahner. "Whenever we needed to use special equipment or haul tractors, Jim assisted … although he will be deeply missed, I think his presence will be felt at the Ag Hall for years to come."
James met his future wife of 70 years, Golden Coleman, while attending school at Elm Grove Grade School, outside of Bonner. It was only by chance, Golden remembers, that the two would eventually become married.
"We went to grade school for a year or two and I never saw him again 'til I got out of high school and met him on a blind date," she said.
Golden summarizes her life with James, which included four children and living in the same house for 67 years, simply but fittingly.
"It was a great life," she said.
In a eulogy given at James' funeral March 20, Del Coleman shared memories about his father, sharing thoughts about how his dad would walk two-and-a-half miles to work each day for years after having back surgery and how James had always been there to help anyone who needed him.
"Dad never turned anyone down," Del said in the eulogy. "I don't know how many people dad helped. Last week, a man that was delivering medicine to the house told dad's nurse that he remembered dad pulling him out of a ditch over 20 years ago."
Del said his father had always been a force for good in his life, teaching him and his siblings to be true to themselves and to treat others with dignity and respect. It is for these memories, and many others, that Del said he would miss his father "always."
"… and love him even longer," he added.