Family's past showcases women's spirit, strength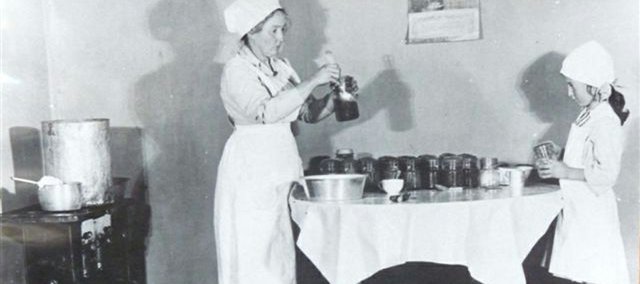 The daughter of a social networking pioneer, Rae Sedgwick describes her mother, Helen Foster, as strong, spirited and spontaneous.
ON DISPLAY
Basehor Historical Museum will have a presentation and exhibit of the Glenwood Extension Homemakers Unit at 9 a.m. Saturday, May 8, at the museum, 2812 N. 155th St. A canning class will also take place that day from 1 p.m. to 3 p.m. The cost is $10, and all ages are welcome to attend.
For more information, contact the museum at (913) 724-4022.
Sedgwick, a Bonner Springs resident, says some of her earliest childhood memories are of tagging along with her mom to meetings of the Glenwood Extension Homemakers Unit, a mother-daughter club founded by Sedgwick's mother and grandmother, Bernice Hanway Timmons. The Glenwood EHU was the first of its kind in the United States, and Sedgwick said the club and its participants typified the personalities of her relatives.
With Mother's Day approaching, Sedgwick looks back on the days she spent with her mother at the EHU meetings.
"In my family, it was always a mission to do for other people and to make the world better," Sedgwick said. "I think that might have been a driving force behind creating this organization for women in the community, to lift people up."
The homemakers unit began as a canning club in June 1915. It served as a way for women and their daughters to gather and learn different ways to can food, share a meal, sew, quilt, sing and tell stories.
"They started what we would call today, 'social networking,'" Sedgwick said.
The club's dues were 50 cents per year, and the women frequently headed charitable activities, such as providing food or funds to families in need. Women of the Glenwood EHU also secured an old church to turn into a community building for their meetings and for local functions.
"I remember how strong they were as women and how supportive they were of one another," she said. "I saw the ladies at the meetings, but they were always in and out of our house, too. They really supported each other."
Sedgwick said her young age kept her from taking genuine interest in the women's activities at the meetings, but she recently realized the importance of what they were doing at the time.
"Us kids raced and chased and pushed each other off the porch (during the meetings)," she said. "But I've had the chance to look back and see the contributions they made and learn more about who they were as women. They were helping people, helping each other."
Allowing her daughter to run and play instead of work with the unit was part of her mother's character, Sedgwick said. Foster was known to let chores wait while she had fun with her kids.
"She used to say, 'Childhood is for children, and you should play,'" Sedgwick said of her mother. "I think that came from all the work she had to do as a child on a farm."
An example Sedgwick used of her mother embracing joviality was a response Foster gave Sedgwick after she asked to play outside.
"She was in the kitchen, and I was tall enough I could see a pile of dishes in the sink," she said. "I asked her to come play with me and she said she really had to get the dishes done. Then she looked at me and said, 'These dishes will be here when you're gone,' and she threw her apron over her head. And we played outside."
Along with her playful nature, Foster was tenacious and passionate, traits that made her a leader among women.
"She was a strong, independent, capable woman," Sedgwick said. "She was a great historian and could stretch a dollar out of a dime. She was my mom."