Price returns to coach
BSHS

boys for second time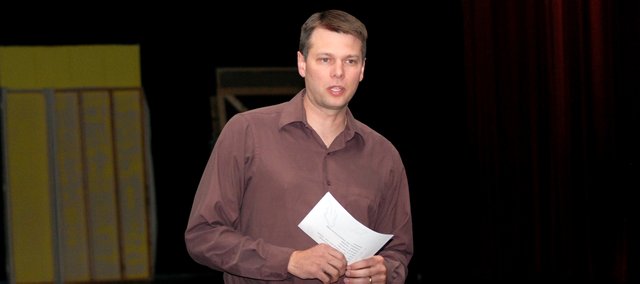 Bonner Springs High School formally introduced its new boys basketball coach Wednesday night, and it's a familiar face.
Andy Price met with players and parents in the BSHS auditorium to introduce himself — or, more accurately, reintroduce himself — to them and lay out the program's plans for this summer and beyond.
This will be Price's second stint as the Braves' coach. He had a successful five-year run beginning with the 2001-2002 season and concluding with the 2005-2006 campaign before he abruptly stepped down at the team's end-of-season banquet to spend more time with his young family.
Price posted a 66-42 record and won two Kaw Valley League championships during his time at the helm. He's the second-winningest coach in school history and has the top winning percentage at .611.
Now 36, Price said the time away was good for him.
"I just think at that point I was kind of really getting too obsessed with basketball and was neglecting my family a little bit," he said. "I had a 2-year-old at the time, so I just kind of needed to step back and get a new perspective because I was getting too wrapped up in it."
Price said the time away was good for him. He remained with USD 204 in the technology department. He coached middle school basketball for two years — those players will be juniors and seniors next year— and he has spent the past two seasons helping to live stream the BSHS basketball games online. He's also enjoyed watching his family grow. The 2-year-old now is almost 6, and he has a daughter that will soon turn 2.
One of the biggest differences between the first go-round and this one is that Price now understands he doesn't have to do everything. He convinced former assistant coach Dan Streit to come back on board as part of an experienced staff.
Price said that when he stepped down he always expected to one day coach again. Still, he admits the situation at Bonner Springs is unique in that he will be the head coach for the second time.
"When I left, some people knew that basketball was in my blood and they thought when I gave it up that I was just going to immediately go coach somewhere else, that I was just looking for a bigger school or something like that," he said. "But I always loved coaching here. I thought I related well with the kids here, I thought that it was a community that really needed a positive role model and I thought I was making a difference in all those things that are good, human things.
"I had no interest in really leaving, so I just wanted to focus on my family, focus on my tech job and just take a step away from it. I really had no idea I'd be back in this position again. I wasn't looking for anything necessarily, but it really worked out nicely — especially since the two years that I coached at the middle school those kids are now juniors and seniors, so I already know them, and I was really happy to get some of the same assistants. They were in kind of the same situation in that they stepped away from it just to have a little more family time, and now they're ready to get back into it."
To read more about the coaching change, pick up next week's edition of The Chieftain.