Bonner Springs trounces Tonganoxie in soccer season-opener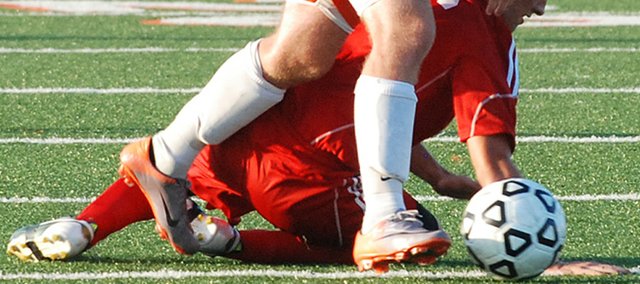 Offense eluded the Bonner Springs boys soccer team in 2009, but that's not the case so far in 2010.
Photo Gallery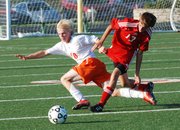 Bonner Springs soccer 4, Tonganoxie 0
If Tuesday's season-opener at home was any indication, the Braves are poised to light up the scoreboard this fall.
They took control early against Tonganoxie and rolled to a 4-0 victory at David Jaynes Stadium.
Even though the score was lopsided, the Braves had numerous chances to make the margin of victory much greater.
"It was a good win, but I think that we need to work on some movement up front a little bit more," BSHS coach Mike Moulin said. "A little more movement up front will create a lot more opportunities to finish early."
The Braves began peppering the Tonganoxie goal with shots within the first minute of the game. Shawn Jones, Jacob Moulin and Spencer Bush all fired quick shots that failed to find the back of the net.
The Braves' luck changed in the 10th minute, however, when Bush fed a long ball down the middle of the field. Jones streaked in from the left side and Jose Lopez came in from the right. Jones controlled the ball and fed it to a charging Lopez who punched it home for a 1-0 lead.
A nearly identical scenario played out two minutes later as Jones connected with Lopez for another goal. That gave the Braves a comfortable 2-0 lead just 12 minutes into the game.
Lopez praised his teammates for delivering good passes into open space.
"I just think they know I'm fast," he said. "That's why they played those balls to me."
BSHS continued to fire away, and Jones joined the scoring barrage in the 35th minute when he scored from 10 yards out off of a nice feed from Derek Rodgers off of the right end line.
The Braves led 3-0 at halftime and managed just one more goal in the second half. Lopez scored off of a corner kick by Bush in the 68th minute.
Lopez said the fact that Bonner Springs scored four goals in its first game would give the team confidence heading into the rest of the season.
"All I can say is we're here to win," he said.
The Braves' defense was relatively untested by Tonganoxie, thanks to a dominating performance from the midfield, but Moulin noted Nate Mitchell showed strong leadership in the back.
Moulin expects his squad to receive a much stiffer challenge today when it travels to Lawrence Free State. The Firebirds reached the Class 6A Final Four last year.
"The second game will be a true test, and I'm hoping it pushes these boys and opens their eyes because Lawrence Free State is a top-notch team," he said. "They went to state last year. They're a good team, and this will really test us and see where we're at this year because our mission this season is to be in that top four."