Chemistry takes local comedy duo to national stage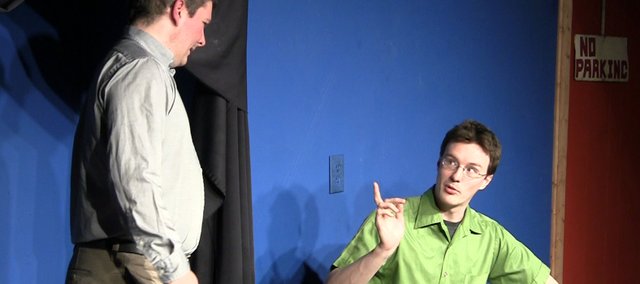 The conversation between John Robison and Keith Curtis recalling how they created their improvisational group Dictionary Soup goes a little something like this:
Curtis, of when they first started performing together: "He didn't get me a gift or flowers or anything, which was kind of upsetting."
Robison: "Affection is a two-way street, sir."
Curtis: "I give plenty of affection. Just read his text messages."
This quick and easy banter among the two performers has lent itself to Dictionary Soup seeing success on the Roving Imp stage in Bonner Springs and, now, off of it as well. Dictionary Soup was recently chosen among 30 comedic duos across the country to perform as part of Duofest 2010, a festival devoted to showcasing two-person improvisational groups. Duofest is going on Sept. 30 - Oct. 3 in Philadelphia.
Robison said he was looking forward to the opportunity to not only present his and Curtis' comedic talents among their peers, but also to improve as performers.
"We have a goal here that we never want to rest on our laurels, we always want to improve and grow and … improve as actors," Robison said. "Because we see ourselves as actors."
Robison, who owns the Roving Imp Theater and Coffee House, and Curtis, who works in radio production in the Kansas City area, joined forces more than three years ago. They had both performed together before, Curtis said, and when Robison opened the Bonner Springs theater in 2007, Curtis said he thought at the time that "this would be a great opportunity to do a two-person show."
After discussing it with Robison, whom Curtis recalls agreeing to his proposition "almost immediately," the two began taking to the stage the activity they do very well in life: talking together.
And the two are far from modest about the caliber of performances they have created over the years from their improvised conversation.
Robison: "I can't remember the last time we had a stinker show."
Curtis: "Yeah, they're all pretty good."
Robison: "Every time we do a show, I always think afterwards, 'Boy, that's the best show we've ever done.'"
There is a formula to any Dictionary Soup show. At the opening, Curtis will bring a dictionary to an audience member, who is instructed to choose any word. Then, using that word as the theme, the two performers run with it. Curtis said the chemistry between himself and Robison is what makes the show work each time.
"(John's) just very easy to play with. No matter what I do, I know he's going to take care of me on stage," Curtis said, noting what a good listener Robison is. "He never misses anything."
"Which is sometimes a bad thing," Curtis added with a laugh.
Dictionary Soup was chosen for Duofest, Robison said, based on a video submission of a recent performance.
"I just think it's because … we make people laugh," Robison said. "We are funny, we're believable and nobody's brains work like Keith's brain and my brain."
"Especially Keith's brain," he added.
Out of Duofest, the two say they are expecting to get a chance to network with other groups and, as Curtis said, "drink for free" at the after parties. The chance to perform together as they have many times before, however, is what they say will be the best part of the festival.
Curtis: "Honestly, I'm just excited to go with John and perform with John. It's going to be a lot of fun."
Robison: "It's the city of brotherly love and it will be a nice, romantic weekend with Keith."
Curtis: "Better have flowers."
Robison: "You're not getting any damn flowers."
Dictionary Soup will also perform in the Kansas City Improv Festival Sept. 10. Go online to rovingimp.com for more information.