K-7, I-70 interchange project to get under way in 2012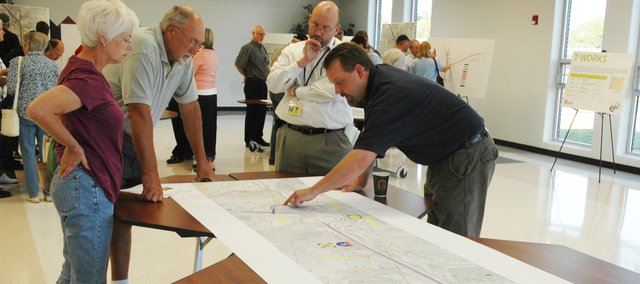 Though work on a new interchange at Kansas Highway 7 and Interstate 70 is expected to begin somewhat out of order, it is finally expected to begin.
And that will be sooner rather than later, Tim Ross, senior vice president with George Butler Associates, said during a public meeting and open house Wednesday night in the Bonner Springs High School cafeteria. GBA is the engineering firm that, along with the Kansas Department of Transportation, is responsible for the project design of the interchange.
Funding has been identified only for the project's phase two, during which new bridges along Riverview Avenue and 118th Street will be built over I-70, Ross said. In all, there are 10 phases envisioned for the new interchange.
An information booklet handed out at the meeting indicates construction is expected to begin on phase two in 2012, with phase one construction expected to begin sometime later. KDOT has also been authorized to utilize federal funds to acquire the right-of-way needed for the first three phases in their entirety and part of phase four.
"So instead of building it phase one, two, three, the current thought is (to build in the order of) phase two, one, three," Ross said. "We're doing that just for fun, just to make sure everybody's paying attention."
Ross said skipping over phase one for now was not to say that it didn't weigh heavily on the importance scale of the project. During that phase, additional on- and off-ramps will be added around Canaan Center Drive to reduce a seemingly ever-present bottleneck in that area.
"That doesn't mean we're not just as interested in building phase one as we've always been," Ross said, "because phase one is the real helper to get rid of all that congestion up there at (Canaan Center)."
The meeting, which allowed residents to see design plans for each of the 10 phases, watch a video of how the interchange would look when it ultimately is completed, and also ask questions of KDOT and GBA officials, was the third of its kind in Bonner Springs. Ross said he noticed quite a change in perspective from residents at Wednesday's meeting compared to the first two meetings, where many vocalized their displeasure of the initial interchange design.

"I absolutely have gotten more positive comments about needing the construction tonight than at the last two meetings," Ross said. "(At the) last meeting, more people were asking, 'Why are you doing this?'"
There to prove Ross' assessment was Del Coleman, from Bonner Springs. Coleman said he had been following the progress and originally hadn't been impressed with the initial design, in which many businesses would have had to close or relocate to make room for the new interchange.
"I think it's so much better than what they had done before, because it doesn't destroy any businesses and it gets the accesses pretty well the way it needs to be done," Coleman said. "I think it's a shame it takes so much ground to do it, but I don't see any other choice."
Gail Godsey, from Kansas City, Kan., said she was happy and relieved to see work finally would begin on the interchange. She said it was a necessity in her neck of the woods, right next to the Capitol Federal Park at Sandstone, where there is always heavy traffic.

"Anything that would help that intersection at K-7 and (I-70) … It's going to take a long time, it's going to be tough for us to deal with for a little bit, but it's going to be worth it," she said. "We have a lot of traffic concerns … and there's too many, way too many, traffic accidents at that location. It's just a nightmare waiting to happen."