Miege edges Bonner Springs tennis in first dual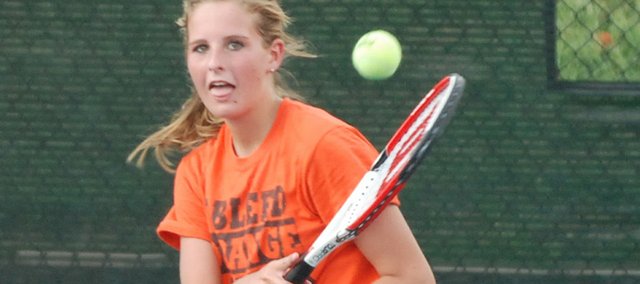 The stage couldn't have been much grander for the Bonner Springs girls varsity and junior varsity tennis teams when they opened their season Tuesday against Bishop Miege.
Photo Gallery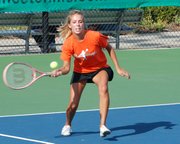 BSHS tennis vs. Bishop Miege
The Braves and Stags squared off at the Plaza Tennis Center in the heart of one of the area's most scenic historic districts.
Miege won the dual, 12-9, but BSHS coach Bill Scott was pleased with the way his youth-laden team performed. In particular, Scott was excited to see Breanna Tendick and Toni Stock deliver a 6-3 victory in number one doubles.
"They started out behind and came roaring back," Scott said. "If they keep improving their net play, they will be a good doubles team."
Scott also noted that Melissa Cisneros and Lauren Callahan made a strong showing with their 6-1 victory at number four doubles.
"Cisneros and Callahan looked very strong and deserve to play up higher in the future," he said.
Lindsay Hunt and Bethany Bailey teamed for a 6-3 victory at number five doubles.
In other doubles matches, Riley Mortensen and Caitlin Hilliard lost 6-3 at number two, Emily Hunt and Sammy Weller fell 6-4 at number three, Hannah Hunt and Jessica Moulin lost 6-2 at number six and Persephone Hart and Aubrey Julo fell 6-3 at number seven.
Bonner Springs went 6-8 in singles matches but just 1-5 in the varsity matches. Tendick nabbed the lone varsity victory as she cruised to a 6-1 victory in the number one position.
Hilliard, Stock, Mortensen, Callahan and Weller lost the other varsity matches by 6-1 decisions.
Junior varsity victories were turned in by Cisneros, Emily Hunt, Lindsay Hunt, Julo and Hart.
"We have to get more consistent and keep the ball in play," Scott said of his team's struggles in singles. "Some of our girls' losses were to girls who were no better than they were. It is disappointing that we can't stay in the games and the set and keep it close. I realize it is the first match of the year, but we have been practicing for two weeks. We ought to be better at this point."
The Braves will have numerous chances to improve during the next few weeks. The varsity and JV squads have a dual Sept. 8 at Olathe North. The Mill Valley JV Tournament scheduled for Wednesday, Sept. 1, was rained out and moved to Sept. 10. The Baldwin JV Tournament also looms on Sept. 9 before the team has its home opener Sept. 13 against Sumner Academy.
"We now enter the month of September, and it is going to be really busy with many matches each week and girls challenging each other for the varsity and JV spots," Scott said. "This is what we have been waiting for as coaches. I know the girls are getting more excited about the season since matches are finally here."