Organizers hail 2010 Tiblow Days as 'biggest ever'
Expanded carnival, Saturday concert, credited with luring more people to city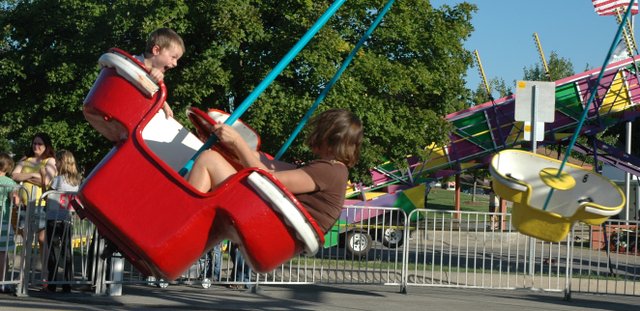 Photo Gallery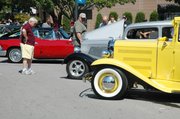 Tiblow Days 2010
The 31st anniversary of Tiblow Days was Aug. 26 through Aug. 28 in Bonner Springs.
The crowds Saturday filling the streets of downtown Bonner Springs were anything but small for such a small-town festival.
In its 31st year, this year's Tiblow Days seemed to bring in a larger-than-normal amount of visitors, but this wasn't anything to complain about for festival organizers.
"The chamber board, we just feel like it was a great event again this year," said Marcia Ashford, president of the Bonner Springs-Edwardsville Chamber of Commerce, which sponsored the festival. "It was the biggest ever. It just seemed a tremendous amount of people were along the parade route and downtown after the parade."
Tiblow Days kicked off Thursday with the carnival and Mayor's Banquet and continued Friday and Saturday with activities such as a parade, a barbecue contest, free concerts and several food, craft and vendor booths.
Aubrey Allenbrand brought her two sons, Ian, 5, and Kainen, 10, to the festival.
"The kids were talking about it non-stop," Allenbrand said of the days leading up to Tiblow Days.
Allenbrand agreed with Ashford, commenting that she thought this year there were more people than usual participating in the community event.
"I've seen it get a lot larger every year and this year seems like the largest I've ever seen it," Allenbrand said.
As Saturday afternoon wore on, the family members found a spot on the curb near Centennial Park where they ate food they had purchased from the many vendors on Second Street. Allenbrand said while her children favored the carnival rides, she appreciated the fact that local vendors and small organizations were out with such force this year presenting their goods for sale.
"It's definitely a good thing," she said. "(Tiblow Days) gets everyone together and everyone talking."
Louis Reyes, of Bonner Springs, also was in attendance Saturday with his two grandchildren.
For Reyes, the festival was filled with memories this year as he thought back to taking his own children to the event when they were younger. This was the first year he's brought his grandchildren, carrying on the traditions Tiblow Days has to offer.
Reyes said this year's event turned out to be a good time, with his grandchildren favoring the carnival. But seeing the number of people on the streets of Bonner Springs really made an impact on him.
"I think (Tiblow Days) just helps make the community stronger and support each other," he said.
Ashford said she'd like to build on the momentum of this year's turnout for next year's event, which the chamber board already has plans to discuss in the upcoming weeks.
In addition to the number of people, other aspects of the event also grew this year. The car show brought more than 85 entries, far exceeding last year's show. The carnival was also expanded this year, which Ashford said probably helped draw more people.
"It really paid off," she said. "(The carnival) had a super time. They were just really pleased with everything."
Ashford said she thought the biggest draw of the weekend, however, was Saturday's headlining band, Rev Theory. She estimated 5,000 people were in attendance at the Centennial Park concert, many of whom came from outside the Bonner Springs and Edwardsville area.
"The entertainment drew a huge crowd," Ashford said. "We had a lot of security, which I think was key to keeping everything running smoothly. Everyone seemed really impressed."
The winners of the Tiblow Days parade are as follows:
• First place — Mayor's Trophy: Valley Feed
• Second place — Bonner Springs-Edwardsville Area Chamber of Commerce Trophy: Coleman Equipment
• Third place — Bonner Springs Business and Professional Women Trophy: Kerby Farms
• Best School Spirit Trophy: Basehor-Linwood High School Band
• Best Kids Trophy: Mini Adventures Preschool
• Best Horse/ Saddle Club Trophy: High Plains
Parade judges also acknowledged the ongoing commitment, creativity and community support of the Bonner Springs Senior Center. The judges presented the center with an honorable mention award in honor of Nancy Johnson, the former Senior Center director who died in March.