AutumnFest sees growth in 21st year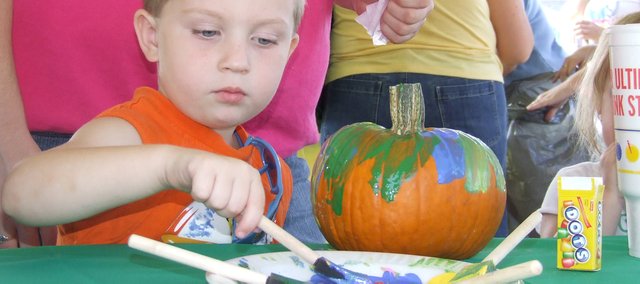 In its 21st year, Edwardsville's AutumnFest is experiencing some growth that has organizers excited for what the community will find at this year's event.
"It's definitely growing," said AutumnFest committee member Phyllis Freeman. "Especially in the entertainment factor. It's really exciting."
This year's AutumnFest will be Friday, Sept. 17 and Saturday, Sept. 18 and will include the expansion of some of the festival's traditional activities, which will all take place in Edwardsville's city center in the parking lots and grassy areas surrounding City Hall, 690 S. Fourth St.
The festival kicks off Friday with a live concert by the Groove Pilots, which features Edwardsville resident Tim Kelly, from 7 p.m. to 10 p.m.
"They're a great band with a lot of fun, high energy," said Mike MacDonald, AutumnFest committee member in charge of entertainment.
The festival continues into Saturday with the annual Mayor's Prayer Breakfast at 7:30 a.m. at the Edwardsville Elementary School, 1700 S. 104th St. This event is sponsored by the Edwardsville Kiwanis Club.
"We always get a nice turnout," Freeman said of the breakfast.
This year's featured speaker will be the Rev. Richard Copeland, pastor of the De Soto Baptist Church. Tickets are $10 and can now be purchased from any Kiwanis Club member or at Edwardsville City Hall.
Continuing into the day, vendor and craft booths as well as carnival rides will open at 9 a.m. The rides portion of the festival has expanded, Freeman said, by offering an additional two hours of fun, closing at 7 p.m. instead of the usual 5 p.m.
Freeman said the AutumnFest committee wanted to provide more time for families whose parents work until 5 p.m. Freeman said committee members wanted to make sure everyone in the community was getting enough time to enjoy everything AutumnFest has to offer.
Wristbands for the rides will also be sold for the first time this year. People can purchase a wristband for $10 before the event or $12 the day of the event, which provide access to the rides all day. Wristbands are on sale at Edwardsville City Hall and at Bank Midwest, 110 South Fourth St.
The AutumnFest parade, which is open for anyone to join, will start at 10 a.m. at 9th and Blake streets. The parade route will continue along Blake Street and end in the city hall parking lot.
Following the parade will be the start of the Edwardsville Idol, which will give the public the opportunity to perform karoke.
"It was a huge success last year," MacDonald said. "There was a long line of people still wanting to sing when we shut down."
This year's Edwardsville Idol has also been extended another two hours, running until 5 p.m. to give everyone the chance to perform. In addition to the public's performance, MacDonald said people could expect performances from "stars" such as Elvis, Johnny Cash, Vanilla Ice, Carrie Underwood and Hannah Montana.
While all the fun is carrying on all around city hall, a group of competition barbecuers will be busy preparing their entries for the AutumnFest barbecue contest.
For the first time, said Mark Bishop, AutumnFest committee member, the barbecue contest will be sanctioned by the Kansas City Barbecue Society, which means participating teams will accumulate points to be used to get initiations to bigger contests such as the American Royal.
Bishop said he expected to have 15 teams competing at this year's contest and he said he expected that number to continue to grow as more teams making the barbecue circuit find out about the event.
"The bigger they get the more fun they are," Bishop said or barbecue competitions. "It'll be great for AutumnFest. Hopefully, we can get enough teams soon to start selling samples to the public. Who doesn't want to have the best barbecue in the country handed to you?"
The event will end with several live concerts including Almost Kissed, a Kiss cover band, who will be performing at 3:15 p.m.
Performing from 6 p.m. to 8 p.m. will be the band Classic Revolution and performing from 8 p.m. to 11 p.m. will be the band Scooter Trash.
"Scooter Trash is absolutely the best classic rock band I've seen in the last 10 years," MacDonald said. "They are really high energy and they're a blast to hang out with."
To see a full schedule of AutumnFest activities, go online to bonnersprings.com.