Haunted house to offer a variety of scares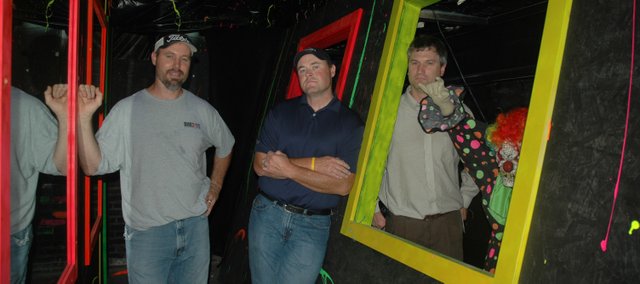 An old, abandoned high school might be the perfect setting for a haunted attraction.
But while Jerry Hoffine, Steve Hoffine and Mike Clouse will be adding their own scary elements to the old 1918 Building for an upcoming haunted house event, they say there are some nights where all that's needed to be afraid is to be physically present in the building itself.
"Knocking, we've heard people walking, we've heard whispers, doors shutting," Clouse said, listing out the various abnormalities the three say they have experienced over the past four months of almost daily gatherings inside the former Bonner Springs High School to plan, design and implement the haunted house.
"I have yet to have an extension cord that doesn't … wrap up into a ball," Steve said. "You leave them, you'll come back, and they're knotted up."
Skeptics may read these comments as just mere advertisement from three event organizers trying to attract those visitors who may be lured in by the promise of an actual haunting. The three swear the tales are true, however, and are hopeful that if anything of that nature does happen when visitors come to the haunted house, it will simply add to the fun.
"That's the main thing," Jerry said. "You want to walk through and not be scared, than don't waste your money. Come up and come to have fun and get scared and have a good time."
The haunted house, going under the moniker 3rd Street Asylum, will be open from 6 p.m. to 11 p.m. Fridays and Saturdays, beginning Sept. 24 and running through Oct. 30. An encore will be staged Sunday, Oct. 31. All the thrills and chills in the house come from the collective minds of Jerry, Steve and Clouse, who joined up and created JMS Entertainment out of a mutual love for haunted houses and memorabilia.
The three say their idea to create their own haunted house was inspired by visits they've made together to haunted houses in St. Louis and Kansas City.
"I think we all three shared the same interest," Clouse said. "You know, the scare tactics, all that stuff we enjoy … We thought, you know, we can do this and we like doing this. I don't feel like there's a better place (for a haunted house than the 1918 Building)."
The three have collected some props from haunted house memorabilia stores, but most of the house's attractions they have built themselves. Throughout the house, visitors will come across screaming bats, spiders that jump out at them, snakes, zombie babies, clowns and much, much more.
"We kind of took what everybody's fear was … we tried to put them into their own little (categories), you know, their own little rooms," Clouse said.
Outfitting many parts of the school — including school rooms, hallways and the auditorium — with spooky music, splashes of "blood," actors playing ghosts and monsters, eerie lighting and, at times, no lighting at all, the three have created an extensive haunting experience they hope will serve its purpose in scaring even the most devout disbelievers in ghosts.
"We hope they have a lot of fun," Steve said. "We hope we scare them a little bit, get their adrenaline pumping and get them talking and just to have fun. That's the biggest thing."
Though the Bonner Springs Parks and Recreation Commission used the same school last year for a haunted house scholarship event, members of JMS Entertainment say this will be different. They won't be donating any money, but will be using proceeds to hopefully one day pay off the already $30,000 of their own money the three have invested in making the scariest experience they can come up with. But their commitment goes even further than that. The three have signed a four-year contract with the city to put on a haunted house event at the 1918 Building each year, and it is their hope each year's haunted house will grow in scares and in numbers of visitors.

"Our intent is to put on a haunted attraction that's on par with something that you could see in downtown Kansas City," Steve said. "Clearly (as this is our) first year, we'll see where we end up. But that's our hope … that's our ambition, to someday be on par with them."
Tickets to 3rd Street Asylum, located in the 1918 Building at the corner of Third and Cedar streets, will be $15 and can be purchased at the door. More information can be found at 3rdstreetasylum.com.