Overgrown brush has residents, cities questioning responsibility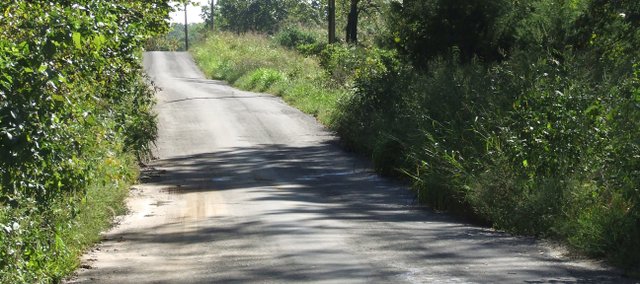 As Dee Lewis drives to her daughter's house at Riverview Avenue and 118th Street, she meets another car going the opposite direction and tries to pull over as far on her side of the road as she can.
As she does, she hears the sound of tree limbs and brush scraping the side of her car and she knows she will have more scratches to buff out just like she's had so many times before.
"You shouldn't have to do that," Lewis said of fixing scratches in her car. "The trees are so grown out in the road it's scary."
Concern among some residents living in the 118th Street and Riverview Avenue area are growing as the brush along their roadway does the same.
But who's responsible for the clean up?
With the city limits for both Bonner Springs and Edwardsville running down the center of 118th Street, residents are unsure who to contact about their concerns, while the cities both say their ordinances require the property owners to address brush along roadways.
"Technically under our ordinance, as is under Bonner Springs, the ordinance says property owners are responsible to the center line of the roads to clear brush, grass and trees," said Edwardsville City Administrator Michael Webb. "But we understand it's a difficult situation with the amount of brush that is out there."
"It's the property owner adjacent to the right of way who maintains that area of the right of way. We have a code enforcement officer … and we'll give people a letter to comply with (our ordinance.) If they don't, we can take them through the process and take them to Municipal Court," said Bonner Springs City Manager John "Jack" Helin, adding that he doesn't know if a letter has ever been sent to 118th Street property owners.
Webb said he's been working on the brush problem, despite the fact the ordinance says it is the property owners' responsibility.
"The problem is the amount of resources available to tackle it," he said. "We basically only have one public works guy and how much can he do?"
Webb said he's contacted Wyandotte County about clearing the brush but was turned away. He's also looked into leasing the proper mower needed for such a task from a rental company but couldn't find one. His most recent effort, he said, is to put in a request to Bonner Springs to use or rent their mower for the job.
"It's a challenge," Webb said. "We understand that a lot of homeowners aren't in a much better position to do the work as we are. I don't know if there's an easy solution. We could just say it's the homeowners responsibility and leave it at that, but that's not fair to just say, 'Here you go. Go take care of it.'"
In the meantime, Webb said the city has contracted out some work to clear brush from roadways, but the workers have focused on major intersections and along 110th Street because that is where the majority of the city's traffic goes.
Gary Carpenter, who lives along Riverview Avenue, said he doesn't understand how the city can expect property owners to cut the brush when it's such a dangerous job.
"I cut the brush along my property," Carpenter said. "And people come speeding up the road. It's dangerous. I've been close to getting hit by cars."