Walking together for disabilities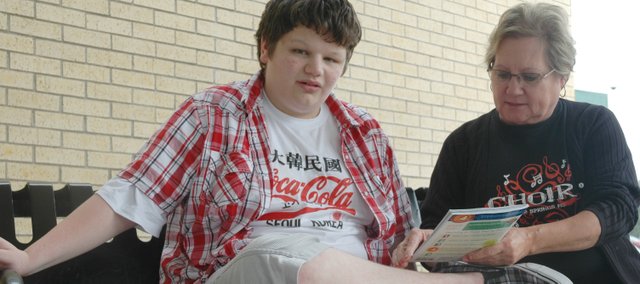 When Sean Holley was two years old, his doctor told his mother "he will never talk, have eye contact or be a functioning member of your family. Prepare to place him in an institution."
That diagnosis regarding Sean's severe autism left his family lost and not sure where to go next.
That was until the Holleys found Families Together, a nation-wide program with chapters in each state providing assistance to families with school-aged children with disabilities.
"It's amazing the outreach (Sean) gets just by being himself, and people accept him here," Holley said. "I truly believe with all my heart that had it not been for that one phone call to Families Together, I would still be hiding at home with him, not working, struggling, getting him to communicate."
Today, Sean is a functioning member of not only his family but of the Bonner Springs High School community. And for his senior project, the 18-year-old will give back to the organization that gave his family so much.
The Kansas Families Together has planned its first fundraising walk and for his senior project, Sean has been raising money for the organization and will put together a team to walk at the event on Saturday, Sept. 18.
"It's the first walk we've had in the Kansas City area," Holley said. "It will celebrate the diversity of individuals with disabilities and their families and their acceptance in our community."
Sean's journey started at preschool age with his first attempt to integrate into a traditional classroom. Holley said Sean's teachers had concerns because he wasn't talking, making eye contact and was constantly chewing on objects.
"We needed more support," Holley said.
By reaching out to Families Together, Holley said she was connected to another parent who had a child with autism and the two used each other as a support system. Families Together also armed Holley with the knowledge and language needed to make sure Sean's school district, which was in Junction City at the time, was providing him with the education he deserved.
When the family was making a move due to Sean's father's military employment, Holley said she once again leaned on Families Together to help her find the right city and school district that had a track record of supporting children with disabilities.
The family ended up in Bonner Springs as a result. While the first year got off to a rocky start, Holley said once again Families Together stepped in and helped resolve the miscommunication that was happening between the Holleys and Sean's teachers.
"Bonner leads the way," Holley said. "It's a leading school district in the state as far as inclusive education, making sure kids with disabilities are educated with peers or at least socializing with them."
Jim Mitchell, Sean's special education teacher at BSHS, said Sean has been making big strides.
"We work on eye contact and him being able to verbalize things," Mitchell said. "He doesn't verbalize a lot but does understand a lot. He reads great too. He's a good reader and able to work on a computer. He's really done really well."
Holley said her son found a way to be part of his community so much that she thinks he may know more people in Bonner Springs than she does.
Holley said Sean is often known around Bonner Springs as the "Happy Birthday Guy." Sean loves to sing Happy Birthday to people and surprises many teachers and others at the high school with a rendition of the song on their special day.
"The doctor said to put him in an institution, but now we can't go to walk into Walmart without cashiers asking about Sean," Holley said. "He's overcome so many obstacles."
As for the senior project, Mitchell said Sean has been helping out by hanging posters and passing out flyers at the school. As of this week, Mitchell said Sean had raised $600 for Families Together.
"He likes to walk, he likes to be with his friends, so this is kind of what its about. It'll be like a social thing for him," Mitchell said about the Families Together walk. "And it'll be earning money for something that's really been an important part of his life. The organization really helped Sean and his family realize other alternatives to just putting a kid in an institution."
The Families Together walk will be at 9 a.m. Saturday, Sept. 18, at West Flanders Park in Shawnee Mission. Those interested in donating or joining Sean's walking team can contact him at seanholley@usd204.net.