Excitement grows for Scout campout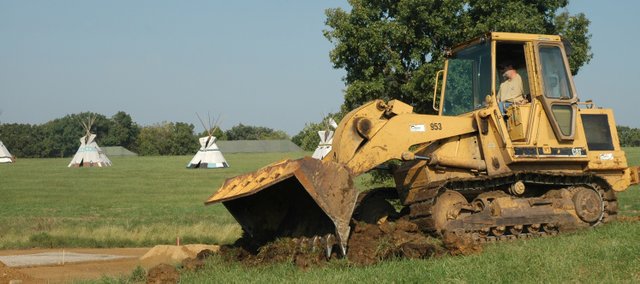 As the Boy Scout Centennial Campout nears, the activity surrounding Camp Naish for the arrival of nearly 11,000 people grows.
"I think the excitement is starting to build," said Randy Kidder, finance director for the Heart of America Council, Boy Scouts of America.
The campout, which will take place Friday, Sept. 24, and Saturday, Sept. 25, will celebrate the 100th anniversary of Boy Scouts of America. Kidder said registration numbers are showing that about 11,000 Boy Scouts, Troop leaders and parents will be descending on Bonner Springs and taking over 200 acres of land across the street from Camp Naish.
"There are so many people coming it's a little overwhelming," Kidder said.
But volunteers and Heart of America Council staff have been making plans carefully for the past year and they are now putting the finishing touches on the site this week leading up to the event.
Kidder said items such as portable toilets are being brought in and troops are coming early to drop off equipment and set up tents. The main stage area, which will house a big performance Saturday evening, is being prepared with bulldozers and stage equipment.
But what really has Kidder excited is the forecast of nice weather the entire weekend.
"It seems like we'll have great weather," he said. "And that's half the battle. They're saying sunny skies, not too humid. I think we'll have a great time."
Participating troops camping out will come in Friday evening and will be bused to the campsite from the National Agricultural Center and Hall of Fame. Other troops will arrive Saturday morning to participate.
While the majority of the centennial year activities have been focused on leadership and community service, the campout is the culminating event that will emphasize fun and celebration.
Some of the activities for the weekend will include a 5K run, obstacle courses, scuba demonstrations, a hot air balloon demonstration, field sports and a Polar Plunge.
"There will be more activities than a Scout can do in a single weekend," Kidder said.
The weekend will end Saturday night with a big concert in an outdoor amphitheater. Performing acts include a magician, a BMX bike show, Liverpool, a Beatles cover band, and a fireworks display.
"It should be really neat," he said.
Kidder said a lot of planning has gone into making the Centennial Campout the best it can be. He said he hopes the Scouts attending the event leave thinking they've had a once in a lifetime opportunity.
"We hope it will be a memorable experience," Kidder said. "A chance to get together a large group of Scouts. (The Scouts) will get the sense of being part of something bigger than themselves."
For more information, visit the website hoac-bsa.org.