11,000 Scouts unite for campout in Bonner
Photo Gallery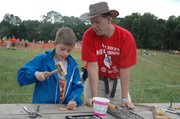 Heart of America Council, Boy Scouts of America Centennial Campout
The Heart of America Council, Boy Scouts of America Centennial Campout was last weekend. About 11,000 Boy and Cub Scouts descended on the 200-acre stretch of meadow across the street from Camp Naish in Bonner Springs for the event.
More than 10,000 youths gathered this past weekend at a makeshift campground in Bonner Springs, united by a single component.
"It's pretty awesome. There's a lot of activities (and) it's really fun," said David Schneider, a member of Shawnee Boy Scout Troop 358. "It's kinda cool that we have 11,000 boys here … but we're all the same 'cause we're Boy Scouts."
Ropes courses, rock climbing and helicopter tours were just a few of the many activities available to attendees at the event: the Heart of America Council, Boy Scouts of America Centennial Campout.
Randy Kidder, finance director with the Heart of America Council, said "just at" 11,000 Boy Scouts and Cub Scouts were drawn to the campout, which was staged on a 200-acre meadow across the street from the Theodore Naish Scout Reservation in Bonner Springs.
"That would certainly be the biggest event at Camp Naish, the most (Scouts) that (were) there at any one time," Kidder said.
The event opened Friday evening, as Scouts from across Kansas and Missouri began arriving to set up tents for an overnight stay. Saturday morning, the main portion of the event got under way, as Scouts of all different levels — from Cub all the way up to Explorer — tried their hand at the numerous activities available. Activities included everything from flint-and-steel fire building to knot tying to leather making to learning about different Native American dances. Demonstrations, such as a look at the VFW throughout history, and exhibits were also part of the fun.
An evening stage show, where the Beatles tribute band Liverpool performed, and a fireworks display capped off Saturday night's activities. Many Scouts then stayed over in their tents in preparation for a Sunday morning departure.
After the event, Kidder said he was pleased with how everything went. He said the Scouts even got to demonstrate the Scouting motto, "Be prepared," when a rainstorm rolled in Saturday evening about the time the stage show began.
"Everything went really pretty well. We got a little damp Saturday evening … (but) those that stayed had a great time," Kidder said, adding that while some went home due to the storm, about 8,000 to 9,000 Scouts stayed. "The weather cleared as the evening went on, so the show went on and there weren't that many that went home."
Though many events and large Scouting Jamborees have taken place at Camp Naish, Kidder said this was the first time the Heart of America Council, which represents 19 counties in Kansas and Missouri, had utilized social media websites like Facebook and Twitter to get the word out about the campout. He said planning for the event had taken about a year and a half, and Facebook and Twitter were a crucial component of that planning.
But usage of Facebook and Twitter didn't stop once the campout got started. Kidder said a social media committee was on hand throughout the weekend to tweet, update status postings and post photos of how the weekend was going.
"I think the impact it had is it allowed people to share in real time and it also allowed family members … to see what their kids were up to and kind of be there with them at the event a little better," Kidder said.
The weekend was certainly fun for the Scouts, but the point of the campout — to celebrate the 100th anniversary of Boy Scouts of America — also wasn't far from many Scouts' minds.
"Just learning about the Scout history," said Peter Klingele, a Scout with Bonner Springs Boy Scout Troop 149, of one aspect of the campout he had enjoyed. "It's been around since 100 years and a lot has changed since Scouting has started."
Still, a lot has remained the same, Kidder said — namely how influential being involved in Scouting can be on today's youths, just as it was years ago.
"I think that it's important (to honor the 100th anniversary) because I think the organization makes a big difference in the lives of young people and families," Kidder said. "We want to show that we're as relevant today as we were 100 years ago, and to set the stage for the future."