Braves break out at Louisburg
Bonner Springs collects victories at Louisburg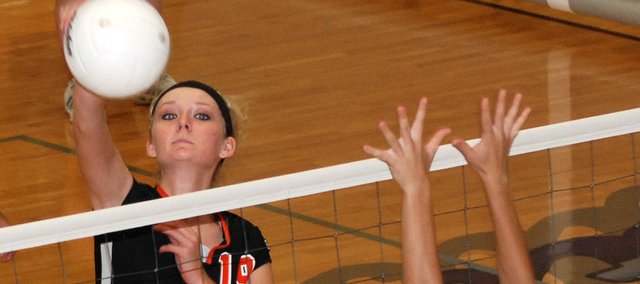 Louisburg — The Bonner Springs volleyball team narrowly missed advancing to the championship bracket Saturday at the Louisburg Tournament, but the Braves finished with a pair of victories, won the consolation bracket and captured fifth place.
Photo Gallery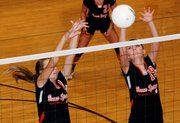 Bonner Springs takes 5th at Louisburg
"We were disappointed that we weren't in that championship bracket," coach Heather Campbell said, "but I told the girls 'We're going to come away with two victories, and we can still finish 3-2.' That's a championship to me, because at the beginning of the season our goal was to finish with a .500 record and that takes wins. We got three today, and if we can get two more on Thursday (at Atchison) we're going to get back up there."
The Braves opened pool play against Louisburg — a team they nearly defeated at home five days earlier — and had another hard-fought battle. Louisburg squeaked out the victory, 28-26, 25-18.
The Braves bounced back with a 27-25, 25-17 victory against Santa Fe Trail before falling out of sync in a 25-22, 25-19 loss to Fort Scott.
The 1-2 record in pool play dropped Bonner Springs into the consolation bracket, and it was there the squad played its best volleyball of the day.
After falling behind 3-1 in game one against Prairie View, BSHS unleashed a 10-0 run and took control of the game. Prairie View eventually rallied to within 16-14 before the Braves closed on a 9-4 run for a 25-18 victory.
BSHS opened game two on a 5-1 run, fell behind 11-10 and then pulled away for a 25-19 victory in game two. That propelled the Braves into the fifth-place match against Anderson County.
The teams traded points in game one and were tied 7-7 before the Braves took control. Chelsea Crawford pounded a kill, and Jene Williams and Madison Scott fired aces as BSHS began to build a lead. Haley Hoffine stepped to the server's line with a 10-8 lead and fired the Braves to a 10-0 run. Hoffine contributed four aces during that stretch, and Jessie Kelly had a pair of kills as BSHS built a 20-8 lead before ultimately winning 25-11.
Anderson County opened game two on a 6-1 run, but Kelly unleashed four aces during a 7-0 run that put the Braves ahead for good. A balanced offensive attack helped them motor away for a 25-16 victory.
The final two games may have been the Braves' best performances of the season. Kelly said it helped that the team played with more confidence.
"We were tired of losing," she said. "We just wanted to show everyone that we could play, and we did."
Blue Valley North won the tournament, Louisburg finished second and Basehor-Linwood placed third.
Bonner Springs is now 6-14 this season. The Braves return to action at 4:30 p.m. today against Atchison and Schlagle at Atchison. After that, the team plays Saturday, Oct. 9, at the Wyandotte County Tournament at Schlagle.
"If we can come out on Thursday with two more wins, that will (give us momentum) going into the WyCo Tournament in two weeks and then into the league tournament," Campbell said. "It's very encouraging for the rest of the season."