Lopez powers
BSHS

 soccer past Blazers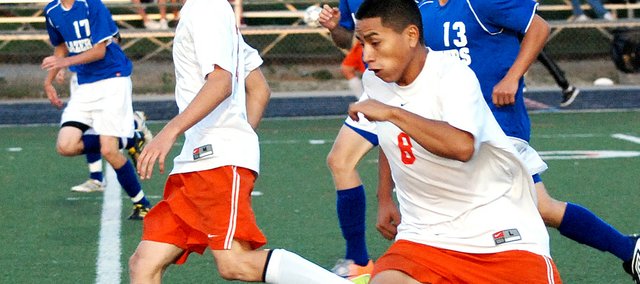 A year ago, the Gardner-Edgerton boys soccer team handed Bonner Springs a season-ending loss in the Class 5A regional playoffs.
On Monday, the Braves gained payback with a 4-1 victory at David Jaynes Stadium that kept them unbeaten and moved them one step closer to earning home field advantage throughout the postseason.
"I'm very pleased," BSHS coach Mike Moulin said. "Gardner beat us twice last year, and the boys stepped it up tonight."
The Braves dominated for the first 25 minutes as they played with precision and aggression. They won every ball in the air, snuffed out breakaways with stout defense and harassed the Gardner defense.
BSHS executed numerous creative attacks, and two of them resulted in early goals.
Jose Lopez tracked down a long ball down the right side, outran the defense and buried a shot into the bottom left corner of the net for a 1-0 lead in the fifth minute.
Lopez struck again in the 13th minute when Conner Harrington slipped a pass to Lopez on the right side. He attacked the goal, hopped over the diving goalkeeper and knocked home a goal for a 2-0 lead.
The key to the early goals was quick passing.
"If they play one- to two-touch soccer and play as a team, most people can't keep up with them. We've proven that time and time again," Moulin said. "We've just got to make sure we're consistently doing that throughout the game."
The Braves continued to attack for a bit, but too much one-on-one play killed their momentum on offense. Meanwhile, GEHS scored during a scramble in front of the box in the 29th minute and pulled within 2-1. That's where the score remained at halftime.
Neither team played with much consistency for the first 20 minutes of the second half, but there was a flurry of activity during the final 20 minutes. BSHS goalkeeper Brett Steuart made multiple acrobatic saves to keep his team on top — he snuffed out two shots from point-blank range and took another off of a Gardner forward's foot.
Meanwhile, the Braves tacked on two goals to put the lead out of reach. Caleb Seaton scored on a header off of a pass from Harrington in the 72nd minute, and Shawn Jones scored with 10 seconds remaining after Lopez made an aggressive run down to the left corner and pulled the defense away, freeing up Jones for the score.
Bonner Springs (7-0-1) returned to action Wednesday at Topeka Seaman. Results were unavailable at press time. The Braves play again Monday at Ottawa.