New organization heeds call to 'Feed His Lambs'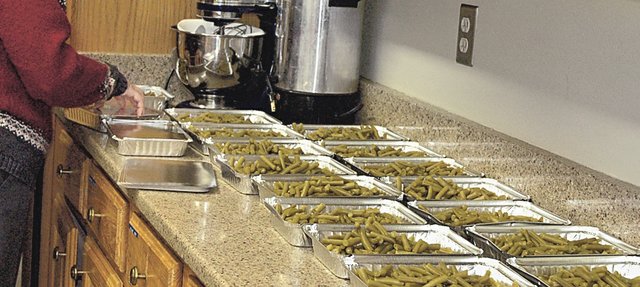 How you can help
Feed His Lambs has a wish list of items that includes locked cabinets and a large freezer for food storage. Additionally, the group can always use donations of corn, green beans, pasta sauce, chicken broth and cream soups. To make a donation, contact the United Methodist Church at 913-422-5349, or call Ward at 913-634-6513. Monetary donations can be sent to the United Methodist Church at 425 W. Morse, Bonner Springs, KS 66012. Please note in the memo line that the donation is for the Feed His Lambs program.
It's a busy Friday morning in the kitchen of Bonner Springs United Methodist Church.
Noodles are simmering on the stove in preparation for the 40 pans of lasagna that will be assembled, baked and, later that day, distributed to families in USD 204. While the noodles simmer, volunteers assemble the tossed salads and seal up the small pans of green beans that will go along with each meal.
Using a Presto Salad Shooter, Gisela Weber, a member of First Christian Church, slices the carrots that will top each salad. She says this is her first time volunteering with Feed His Lambs, a new organization comprised of members from First Christian and Bonner United Methodist churches. But she plans to make her efforts a weekly occurrence.
"'Cause I think there's a need," she says. "And I have the time to do it."
Volunteers with Feed His Lambs have been meeting each Friday morning, excluding the day after Thanksgiving, since early last month to prepare meals that in turn are donated that evening to USD 204 elementary students and their families. Patti Ward, who heads Feed His Lambs, says the organization works with the counselors from each elementary school to identify those families that could most benefit from a hot, home-cooked and, most importantly, free meal.
The original plan was to start with Bonner Springs Elementary, where BSE counselor Mendy Brents has identified 25 families as being in need of the weekly donation. The other schools in the district would then be added next year if it was financially feasible for the group to do so, Ward said. But with a recent anonymous donation of $2,000, Feed His Lambs was able to add several more families to its list than originally anticipated: five from Edwardsville Elementary and 10 from Delaware Ridge Elementary.
Meals thus far have included a main dish, such as burritos, hot soup, as well as salad, a vegetable and bread. The families pick up their meals Friday evening at the church. Each meal is made large enough to feed every family one hot dinner with, hopefully, a little left over for family members to eat the next day. And when there are leftovers in the United Methodist kitchen after the pickup, as Ward said there always are, that food gets donated to Vaughn-Trent Community Services.
"The purpose of the program is to get meals to families that are struggling. So if it happens that they pick it up from Vaughn-Trent, that's fine," Ward said. "… We don't care how it gets to them, just so it gets to them."
Volunteer Donna Schif, a member of United Methodist Church, said the hope was to keep growing the meals to include more items.
"This is just the beginning thing," she said. "We've got to learn what we can handle and how much we can handle. So it's a learning process right now."
Ward said the idea of feeding families came to her after a mission trip she took in July during which she and others donated meals to families in and around Branson, Mo. Ward said she wanted to do something similar locally. While helping out at the Vacation Bible School at First Christian Church shortly after she returned from the trip, Ward said she found a couple of other women who felt the same way.
Planning quickly got under way, with a goal of beginning the program during the time of year when a hot meal would most be needed.
"Our goal was being able to offer this at the beginning of the colder weather," she said. "Furnishing hot meals through the cold winter months was our first objective."
But the group hopes to feed families longer than just through the winter. Feed His Lambs has been funded, largely through donations from United Methodist and First Christian church members, through the end of the year. And Ward said the long-term goal was to be able to feed at least 25 families from all five schools in the district one meal a week all year long, even after school lets out for the summer. The hope is that donations will keep coming in, she said, even from groups and individuals outside the two churches, so that Feed His Lambs can continue its work.
Feed His Lambs hasn't just received monetary donations, Ward said. Several local businesses have also contributed, with the Bonner Springs Subway donating bread to go along with the meals, Price Chopper donating bags to put each meal in and Gerber Moving & Storage donating boxes.
"I'm just astounded that every place I've gone to, they go, 'Well, yeah, sure, you can have this,'" Ward said.
The organization itself is growing, too. Feed His Lambs now boasts 27 volunteers, Ward said. They do everything from shop for the food to help out during the pickup time. Schif said about four to six of those volunteers helped each Friday morning in the kitchen to cook the food.
"The economy has put a lot of families into a struggling situation, but it's going to get better," Ward said. "We're just doing this until people can get back on their feet."