Second-half stunner: Braves shock Jaguars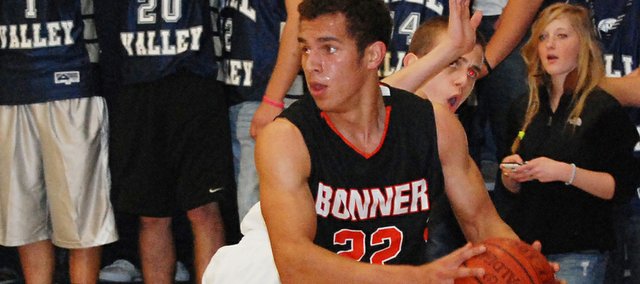 Shawnee — A week ago, the Bonner Springs boys basketball team walked out of the Blue Valley Southwest gymnasium shell-shocked after blowing a comfortable lead when victory appeared to be in hand.
Photo Gallery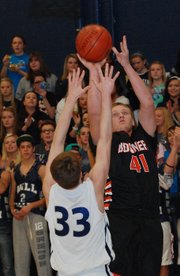 Bonner Springs boys 55, Mill Valley 52
Tuesday night at Mill Valley, the Braves emerged from the locker room with swagger back in their step as they did the proverbial snatching victory from the jaws of defeat, erasing a 13-point halftime deficit to top rival Mill Valley, 55-52.
"I told the guys in the locker room that this is my seventh year as a head coach and that's the best feeling I've ever had in a win," BSHS coach Andy Price said. "It's a rivalry game, they're a good team, they had us on the ropes … and for us to show some heart and bounce back like that, that's the proudest I've ever been of a team.
"Hopefully they felt that way too and they felt that passion, and we can build on that."
Little went right for the Braves during the first half. Mill Valley's Nick Friesner buried three 3-pointers in the first quarter and the Jaguars went 7-for-8 from the field while building a 17-11 lead. The Braves rallied to within 23-22 with 3:25 to go in the second quarter, but Mill Valley scored on the next four possessions and pushed the lead to double-digits.
The Jaguars led 39-26 at halftime and were in full control.
"We definitely lost some of our confidence against Southwest, and then the first half if we had any confidence left it didn't show," Price said.
Friesner swished two free throws early in the third quarter that gave Mill Valley a brief 15-point lead, but what followed was a remarkable BSHS rally that was a the result of Jaguar miscues and all-out-hustle by the Braves.
Bonner Springs forced nine Mill Valley turnovers in the third quarter — including three steals by B.J. Watson — and the Braves used a 16-2 run to pull within 43-42 late in the quarter before a put-back by Nathan Stacy gave MVHS a 45-42 lead entering the fourth quarter.
The Braves forced seven more turnovers in the fourth quarter — three off of steals by J.J. Jackson — and they turned into 10 points for BSHS. Jordan Jackson's steal and layup with 1:58 to go gave the Braves the lead at 50-49. Moments later, J.J. Jackson stole the ball and fed it ahead to Stevie Williams for a layup. The Braves never looked back.
"Defensively, we stepped it up," J.J. Jackson said. "In the first half we gave a bunch of open shots away, put-backs, that kind of stuff. We clamped down on that in the second half, got a little run and got our confidence back on offense."
Friesner led Mill Valley with 13 points as the Jaguars dropped to 1-2.
Williams scored a game-high 17 points for Bonner Springs, Watson had 14, Steuart had 12, Jordan Jackson scored seven and J.J. Jackson added five as BSHS improved to 2-1.
The Braves next play at 7:30 p.m. Friday at Lansing.