Kansas City jazz legend embodied 'no age limit'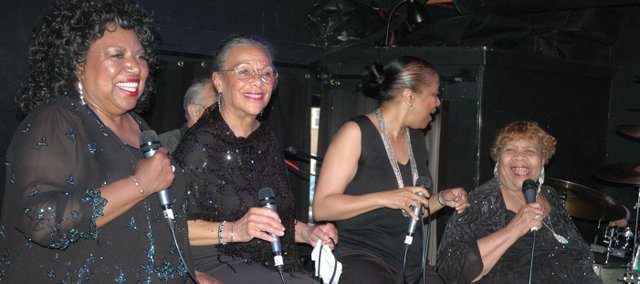 A Kansas City jazz legend died earlier this month, but Myra Taylor won't just be remembered for vocal stylings that could captivate an entire room.
Those who knew her best say they will also remember her for her big heart.
"I think for me," the quality I'll remember most about Taylor was the "camaraderie, because we became family," Millie Edwards, who sang for years with Taylor as part of the Wild Women of Kansas City, said. "And from that, her ability to love everybody, her ability to entertain. The fact that if people didn't walk out smiling, her heart broke. She wanted people to enjoy her; she wanted to make people laugh … the ability to live every day to the fullest and age becoming just a number."
Taylor's age, and her ability to perform in spite of it, became somewhat responsible for her popularity later in life — a fact she admitted to in a 2008 article reported by The Chieftain. She was 94 when she died Dec. 9 at Swope Ridge Geriatric Center in Kansas City, Mo. But as one of four Wild Women of Kansas City, a jazz singing quartet, she was a prolific performer all the way up until she was admitted to the center in July. Her final performance with the Wild Women, in fact, was in June at Jardine's Restaurant and Jazz Club in Kansas City, Mo.
Taylor was born Feb. 24, 1917, in Bonner Springs and had an unsettled childhood. Her mother died when she was only 7 and after that, she was shuffled between a great uncle living in Bonner Springs and her mother's best friend, who lived in Kansas City, Kan.
Taylor never made it past the eighth grade.
By the age of 15, however, she began carving a niche for herself as a jazz singer and tap dancer in Kansas City, Mo. She soon began getting bookings at jazz clubs in the now historic 18th and Vine district, but her career wouldn't stop at the city limits. Instead, it took her across the globe — in her lifetime she performed in more than 30 foreign countries.
Her list of accomplishments is a long and storied one. She joined the USO in 1944, where she performed for troops during World War II and the Korean and Vietnam wars. For a time, she owned and operated a nightclub in Germany called Down By The Riverside. She was cast as a character on the long-lived sitcom "The Jeffersons," appearing in several episodes. She also had roles in a handful of short and feature-length films.
Taylor was a prolific songwriter, as well, often performing songs that she penned herself. These included "Spider and the Fly," one of her most well-received songs, and "Cumbaye," a crowd favorite she wrote in the 70s while working as a performer in Africa. She never had her songs copyrighted, though, which Edwards said was one of Taylor's biggest regrets later in life.
"She would say, 'My songs are being played in Europe; my songs are being played in Africa.' She said, 'I'm not getting paid for that,'" Edwards recalls. She said Taylor was often taken advantage of and mismanaged throughout her life, which directly resulted in her legacy not being very well known outside of Kansas City. "… That's something that stuck with her and ate at her until the last day."
Still, Edwards said, Taylor never was too bitter about her past, even having grown up and performed during the height of segregation in Kansas City.
"And Myra performed in front of groups that were segregated … coming from segregation and her life was segregation and she saw evolution, she held no grudges," Edwards said. "She still loved everybody and you would never think that she went through the type of abuse, financial abuse, business abuse, segregation, that she went through because she opened her heart to everyone."
Taylor was married three times, but never had any biological children — though Edwards said Taylor considered her longtime assistant, Charles Freeman, her manager, Dawayne Gilley, and several others to be her "adopted" family.
In the late 1990s, the Wild Women of Kansas City was formed, with original members Taylor, Edwards, Geneva Price and Mary Moore. Lori Tucker replaced Moore, who left the group to study playwriting at Yale University, in 2003. The group has performed extensively over the years at clubs and events, becoming a mainstay of the Kansas City jazz scene.
Her later years with the Wild Women, Tucker said, were some of the best of Taylor's life.
"She often told us that her last days had been her best days because she enjoyed nothing as much as she did working with the Wild Women," Tucker said.
Though the Wild Women will continue on as a three-piece act — they say, "You cannot replace Myra" — they will always be inspired by their former bandmate, who embodied the idea that "there is no age limit," as Tucker said.
"I'm going to live until I go. That was her attitude," Tucker said. "And I'm going to be like Myra. I'm going to live until I go."
Services for Taylor were Saturday at Shalom Baptist Church, in Kansas City, Mo., where she was a longtime member. A reception followed at Gates Bar-B-Q.
A tribute concert for Taylor and Pearl Thuston Brown, a Kansas City-based jazz singer who also died this year, will be January 20 at the Blue Room of the American Jazz Museum, 1616 E. 18th St., Kansas City, Mo.