After resignation, Kasselman reflects on 15 years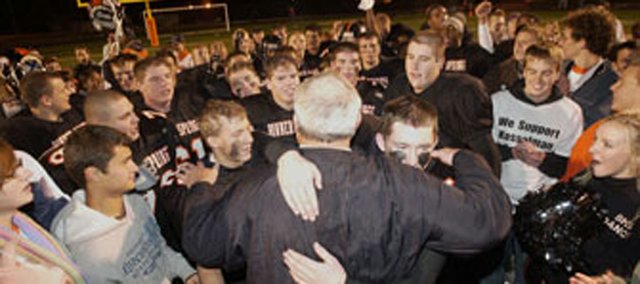 Lew Kasselman was considering retiring as the Bonner Springs High School football coach.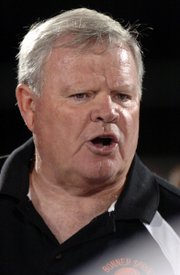 The Kasselman Era
Lew Kasselman served as Bonner Springs High School's head football coach for 15 seasons. Here's a look back at his tenure.
Season Record Playoffs
1996 7-2 No
1997 6-4 Yes
1998 2-7 No
1999 2-7 No
2000 2-7 No
2001 6-3 No
2002 6-5 Yes
2003 4-6 Yes
2004 1-8 No
2005 2-7 No
2006 3-6 No
2007 8-2 Yes
2008 4-5 No
2009 3-6 No
2010 4-6 Yes
Career: 65-81 5 times
Perhaps this year; maybe next.
"There were some things I was looking at. There were some things I was considering, but I wanted to do it on my own time and do it when I was ready to do it," Kasselman said in a phone interview Friday.
He hadn't made up his mind, though, when at 3 p.m. Friday, Dec. 17, before leaving for Christmas break, he says he was called in by BSHS principal Joe Hornback and activities director John Hilton and told his contract as head football coach would not be renewed.
"So then I had an option to either resign or I could fight it and go through the school board," Kasselman recalled. "I decided I didn't want to do all that, so that's why after break I came in and turned my resignation in."
Recommendations regarding coaching retentions are made by the activities director and building principal to the board, which then acts upon those recommendations.
His letter of resignation was accepted by the USD 204 Board of Education on Jan. 18. With that, Kasselman's 20-year run with the Braves — the last 15 as head coach — ended.
So yes, Kasselman had been thinking about stepping down, but his feelings about how it happened stood in contrast to Hornback's statement on Jan. 26.
"Coach has been here a long time and done a lot for our community, and we're happy he made a decision he felt good about," Hornback said.
Hornback is heading up the search committee to hire Kasselman's replacement. Normally that duty would fall to Hilton, but he removed himself from the process because he is applying for the job.
Kasselman said he wasn't interested in going to the school board to fight to remain coach, but he was disappointed with the way it was handled.
"The biggest thing is I felt like I was disrespected a bit because after all the time you put in, to be told you're nonrenewed … but hey, that's their right. That's their option," he said. "It's just when you figure who's evaluating you, and then they turn around and apply for the job, you can see the writing on the wall."
The Braves posted a 65-81 record during Kasselman's 15 seasons at the helm and made five appearances in the state playoffs. BSHS had lost 21 straight games prior to him becoming head coach. The Braves went 7-2 during his first season. The 2002 squad reached the state quarterfinals, and the 2007 squad — Kasselman's winningest bunch — went 8-2 and reached the playoffs before falling to St. Thomas Aquinas.
Looking back on the past 15 seasons, the wins and losses, a few games in particular stood out in Kasselman's memory.
In particular, the 1996 season-opener — Kasselman's first game at the helm — as memorable.
"The program was 0-21 and that first game we played Basehor here and our kids came out and played hard. We weren't going to lose that game," Kasselman recalled. "We jumped on them, and the kids got that taste (of success). I can still remember those plays during that game. It was just a great memory that night."
The Braves' 14-7 loss to Gardner-Edgerton in the district playoffs that season also stood out. At the time, only one team from each district made the playoffs and the Braves were close.
"Some of those kids were coming back next year, though," Kasselman said.
The following season, BSHS earned its first playoff berth since 1982.
Other notable victories included a road playoff victory against Turner in 2002 that propelled BSHS into the state quarterfinals, as well as the playoff loss to Aquinas in 2007.
"That was a great team, and there were a lot of great moments during that season," he said, noting that the team had such standouts as Tyler Jock, L.T. Lee, Jonathan Walker and Jeremy Walker. "We had good chemistry. The kids played hard, worked hard and did some really good things that year. It came down to us playing Aquinas in the first round here. They had a powerhouse and it was close at the half, 15-9, and they just wore us down in the second half. That was a memorable season."
The 2007 campaign was even more memorable, Kasselman admitted, because it came right after a 2006 season surrounded by controversy. The school had placed a clause in Kasselman's contract stating that he could be fired if the Braves didn't win at least five games. BSHS went 3-6, and he was left twisting in the wind for more than two months before being retained.
There wasn't any job-saving magic this season, however. Kasselman won't be back as football coach in 2011, and he has yet to decide if he will continue teaching at BSHS.
"I've got evaluations to do in the spring and decide what I want to do," he said. "I might just end up as an assistant somewhere else, but we'll wait and see."
Regardless of his future plans, Kasselman said he is thankful for the opportunity he had at Bonner Springs and the support he received along the way. He said he wanted to thank his fellow teachers for their support of both he and the young men who have come through his program. He also wanted to thank Clausie Smith for keeping stats for most of the past 15 years and being a constant supporter of the program, the fans who have filled the stands and cheered for the Braves, and his assistant coaches and players for their hard work through the years.
"I want to thank everybody for all the things they've done over the years, and I wish the best to the players and assistant coaches. I hope everything goes well for everybody," he said. "Sometimes you've got to move on."