Bonner pianist at home on stages around globe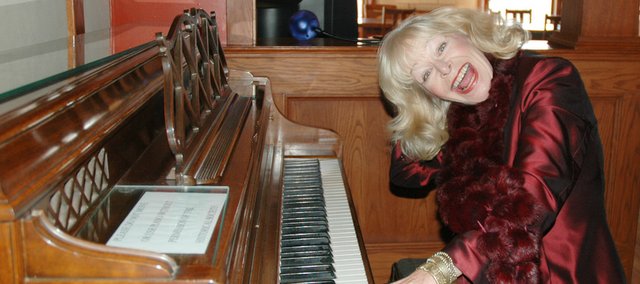 As her fingers dance over the piano keys and her tiny frame sways in time to the music, Mimi Carbery is clearly in another world. She is playing George Gershwin's "Rhapsody in Blue" like nobody's business, and whenever she plays the piano she says her emotional state is all over the place, going from excitement to fear and back again.
TIME TO BID
A personal, two-hour performance from Mimi Carbery will be one of the items auctioned off during Jazz on the Lake, going on Saturday, Feb. 19. Tickets to the Bonner Springs City Library fundraiser, which will include dinner, live music and dancing, are $40 a person and can be purchased at the library, 201 N. Nettleton Ave.
"It's just magic and I love it," Carbery said of playing. "I don't know, I get nervous and excited and good feelings and kind of fear — it's just everything to me. So that's what happens when I sit down (to play)."
Carbery, who is from the Lake of the Forest housing community, has been for years a professional jazz pianist, filling music venues and hotel bars with her renditions of Gershwin, Cole Porter and other early jazz composers. But had it not been for the major seventh chord, she might have ended up filling concert halls and auditoriums with music from composers of a different sort.
The classically trained pianist began playing piano at age 6 and was accepted into the University of Missouri-Kansas City's Conservatory of Music and Dance at age 11, studying classical piano under piano professor Verna Brackinreed. At that time, she says, her world was all about Mozart, Bach and Brahms.
But then she entered high school, and Carbery's love for Mozart was soon replaced with cheerleading and, as she says, "typical high school stuff." She said she was ready to give up piano altogether and told her mother as much.

Bette Carbery wasn't ready for her daughter to give up just yet, however. She set her daughter up with lessons from well-known Kansas City jazz musician and teacher, John Elliot, and after first hearing one of the most common chords in many jazz arrangements, Mimi Carbery was hooked.
"And my life changed when I heard a major seventh; I began to play jazz," Carbery remembers.
Carbery would take those early lessons from Elliot and parlay them into a 40-year musical career that spanned the globe and is still going strong today.
That career began, she says, in Kansas City.
After graduating from Bonner Springs High School in 1969, Carbery began attending Stephens College in Columbia, Mo., where she earned a Bachelor of Fine Arts degree in theater and where, she notes, one of her suitemates was film and television actress Annie Potts.
But while her roommate went off to Hollywood after graduating, Carbery said she knew California wasn't for her. She went back to Kansas City and began getting regular gigs singing and playing the piano at jazz venues throughout Kansas City.
"I was very hirable. I was young, enthusiastic, had a theater degree, could move a crowd. I think I was unusual for sure … just by virtue of being me," Carbery said with a laugh, explaining why she had no problems getting booked for shows. "I think youth and enthusiasm and a real desire to entertain. And I stayed in Kansas City with great success for about four years."
It was shortly after that four-year stint that Carbery got a call from a former boss asking her to come to New Orleans to play some shows, saying "you're going to love it." Carbery decided to try it out, moving to the French Quarter where she got work in several hotels. And just as her former boss had promised, she fell in love with the bustling, musical city and the sense of community it offered.

"It was comfortable from the day I arrived," Carbery said, "and the musical community (in New Orleans) is very inclusive. We get along. We want one another to work. Competitively, competition only exists for individuals to get better; there's no stealing of gigs … it's not a dog-eat-dog situation."
Though Carbery's career has taken her throughout the country and outside of it, all the way to France, Tokyo and London, New Orleans has been her home base since she first moved there decades ago. Her repertoire has also expanded beyond just jazz to country and rock. She says she can play a Beatles song just as well as Porter or Gershwin. In a performance, she takes requests from the audience and if she has heard the song once, she says she can play it well enough.
Career longevity is all about figuring out what the audience wants to hear and then being able to give that to them, Carbery says, no matter the genre.
"I believe music is music. I believe good music is music, and to be diverse in your song choices, venues and to be open to all genres, I think is highly important, especially on the club scene," Carbery said.
Piano has been Carbery's bread and butter for the majority of her life, but she had a stint writing jingles for commercials once and also wrote several books about food and the French Quarter with former husband Roy Guste Jr. At different times she owned a dance studio and gourmet grocery store. She holds a master's degree in urban planning, as well, which she said she hopes to eventually put to use in the continued redevelopment of New Orleans following Hurricane Katrina.
Music, though, will always be a part of her, she says.
"It will always be inside me, it will always come out of me; however, I enjoy anything that has to do with learning and interacting with people," Carbery said.
For who she is today, Carbery gives a lot of the credit to members of the Lake of the Forest and Bonner Springs communities who nurtured her talent and sent her out into the world equipped with a strong support system and the knowledge she could accomplish anything.
"This is the most wonderful place in the world to grow up … the community itself (was) magical, and I believe still is," Carbery said.
As for who she will become in the future, Carbery doesn't worry too much about that, saying with a shake of her blonde hair and a wide smile, "You're going to get what you need, you just have to trust it."