Worth the pain: Seaton delays surgery for state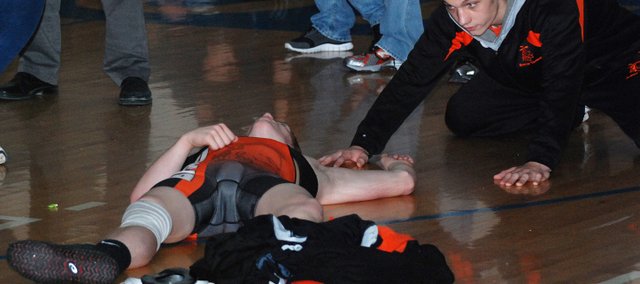 Holton — The shoulder brace that wraps around his body is a dead giveaway every time Caleb Seaton steps onto the wrestling mat.
He knows what his opponents must be thinking, and he's usually right: Target practice.
He says the number of opponents who have taken aim at the injury has been excessive, and it's annoying, to say the least.
"It definitely feels like people don't know how to wrestle when they just target it instead of going out there and wrestling their match," he says.
While Seaton can't control how others choose to wrestle him, it was his choice to endure the pain.
The tendons in his right shoulder are stretched thin, and he has a hole in his rotator cuff. When he uses his shoulder, bone grinds on bone.
The shoulder has popped out of socket so many times that Seaton says it now pops back into place on its own.
Doctors suggested he take a break from wrestling. They recommended surgery.
"They told me it was going to be six months," he says of the recovery time. "That wasn't going to happen. Not my senior year. I decided I was going to wrestle."
Seaton has been a force at 125 pounds this season. He's been ranked in the top five in Class 4A all year, and he has won or placed in the top three at tournaments consistently.
Some days the shoulder hurts. Other days the pain is agonizing.
In hindsight, Seaton says battling through the injury has been a lot harder than he expected.
"I don't really know the after effect of how bad it is until the day after if it stiffens up really bad or not," he says. "But there's been several times where I'm like 'Oh boy, I might not be able to make it through the rest of the year.'"
Seaton sat out one tournament late in the season to give the shoulder a bit of extra rest before the home stretch of the season. He won a Kaw Valley League championship on Feb. 12. On Saturday, he captured the regional championship at Holton High School after rallying past Baldwin's Andrew Morgan in the closing seconds.
Now, the reason why he chose to delay surgery until after the season — to win a state championship — is here.
Seaton (30-5) will compete at the Class 4A state tournament Friday and Saturday at the Bicentennial Center in Salina in search of an elusive state title. He finished fourth at the Class 5A championships each of the past three seasons, matching a trifecta that older brother Ian also achieved.
Seaton hates the number four. Only one place is acceptable this year.
"Nothing besides one," he says with a grin.
BSHS coach Brandon Jobe likes Seaton's chances of winning a state title this season. Jobe says Seaton's toughness has carried him a long way so far, and toughness is an even bigger deal at state.
"In one word: he's tough," Jobe says. "Hopefully he can put it together at the right time, and hopefully all of the pain he's been through, the dislocations, hopefully it all pays off."
Seaton hopes so, too. In fact, the pain is one of his greatest causes for optimism that this will be his year to be a state champion.
He knows he's endured more than anyone else, and it hasn't stopped him yet.
"I think it'll drive me to accomplish my goal just because I went through all of that pain," he says. "I think this year I have it. I think if I just wrestle my match I can pull it off."