Eagles to be on display during
KCK

celebration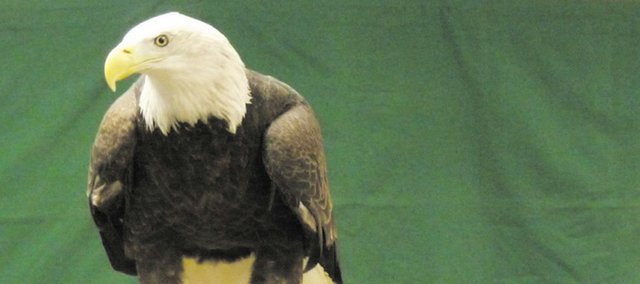 More birds of prey will be on display this year than ever before during the 10th Anniversary Eagle Day Celebration at the Mr. and Mrs. F.L. Schlagle Library.
Jessica Lawrenz, education specialist with the library, said about 15-18 owls, hawks falcons and eagles, all provided by Operation Wildlife, will be available for viewing during the event that celebrates the country's national symbol: the bald eagle.
"It's a family function, but it's also educational, so kids can come out with their parents and have a fun time, but also see some birds of prey up close and learn about them," Lawrenz said of the celebration that is being organized by both the library and the Unified Government of Wyandotte County and Kansas City, Kan., Parks and Recreation Department. The event is sponsored by the Kansas City Board of Public Utilities.
The celebration will include two hour-long presentations at the library with a live bald eagle, during which an Operation Wildlife volunteer will share facts about bald eagles, such as how they fly and hunt. The presentations will also provide information about Operation Wildlife, Lawrenz said, which is a Kansas-based rehabilitation facility and veterinary clinic for wildlife located in Linwood.
Another presentation, led by biologist Mike Watkins with the U.S. Army Corps of Engineers, will offer information about the bald eagles living in the Kansas City area.
Other live birds of prey will be displayed at James P. Davis Hall, located near the library, and the PBS series, "American Eagle," will be shown throughout the celebration. Additionally, there will be a children's craft area, and field guides and binoculars will be available for checkout with a library card, giving attendees a chance to look for actual bald eagles and other birds that have migrated to Wyandotte County Lake, Lawrenz said.

"This special day will pay tribute to our national symbol, a once-endangered bird of prey that has enjoyed a remarkable recovery through the efforts of many dedicated organizations and individuals," Lawrenz said in a press release.
The Eagle Day Celebration will be from 10 a.m. to 4 p.m. Saturday, Jan. 15. The first bald eagle presentation will begin at 10 a.m., with the second presentation, which will be a repeat of the first, beginning at 2 p.m. Watkins' presentation will be at 11 a.m. and "American Eagle" will be shown beginning at 12:30 p.m. All other activities will be available throughout the entire event.
Both located in Wyandotte County Lake Park in Kansas City, Kan., the Schlagle Library is at 4051 W. Drive and Davis Hall is at 91st and Leavenworth Road.
For more information, contact the library at (913) 299-2384, or go to kckpl.org/schlagle/.