Emphasis on free throw shooting pays off for Bonner girls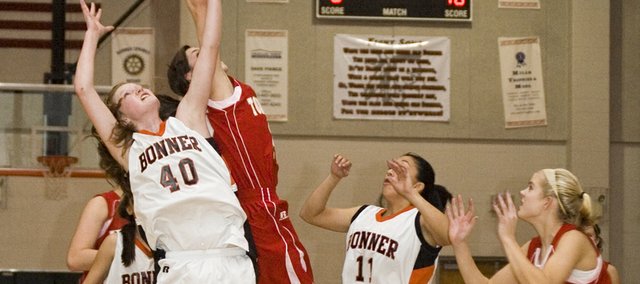 Editor's note: the following is the version of this story that was published in the print version of the Chieftain.
In the practices since the Bonner Springs girls basketball team's last game of December, coach Clay Oakes hammered home the importance of attacking opposing defenses and getting to the free-throw line.
Good idea.
Led by that approach — and 30 made free throws — the Braves handled Kaw Valley League foe Tonganoxie at home on Tuesday night, winning 59-45.
Bonner Springs, Oakes said, had struggled at drawing contact and scoring from the foul line in its first four games.
"Actually, that's kind of been our Achilles heel all year," he said. "Seems like when we've gotten there throughout the year, we haven't done a very good job at it."
The Braves (3-2 overall, 2-2 KVL) looked like old pros against THS (2-3, 1-2). Their 30 makes — on 45 tries — not only accounted for more than half of their points, but also were more than the Chieftains even attempted. The road team finished 13-for-27 at the line.
Leading the march to the charity stripe throughout was Bonner Springs sophomore Anna Deegan, who finished 8-for-12 and matched fellow BSHS sophomore Haley Hoffine, who was 6-for-8 at the line, with a team-best 12 points. Not surprisingly, the Braves' third-leading scorer, junior point guard Yessenia Hernandez, scored 11 after going 5-for-6 on foul shots.
Bonner Springs reaped the benefit of a tightly called game by cashing in at the line with 22 second-half points on free throws. Oakes was pleased with the result.
"We talked at halftime that we had to adjust to officiating," he said.
Although Tonganoxie made a run at BSHS early in the fourth quarter — a jumper from Jenny Whitledge and a three-point play via the night's hot spot, the foul line, for Danielle Miller cut the Braves' lead to 35-31 with just more than seven minutes remaining — Bonner Springs iced the game going away by hitting 14 of its 17 free-throw attempts in the final period.
The game would have been a complete blowout had THS junior Amanda Holroyd not knocked in three 3-pointers in the final five minutes.
The Braves opened the game with a comfortable, 11-1 lead late in the first quarter, when Tonganoxie committed eight turnovers before Whitledge scored the team's first field goal with 1:34 left in the period.
The Braves next play at 6 p.m. Monday at home against Atchison and then travel Tuesday to Basehor-Linwood (4-1, 2-0).