Lee ready to lead at Missouri State
Former
BSHS

 star sees extended playing time with Bears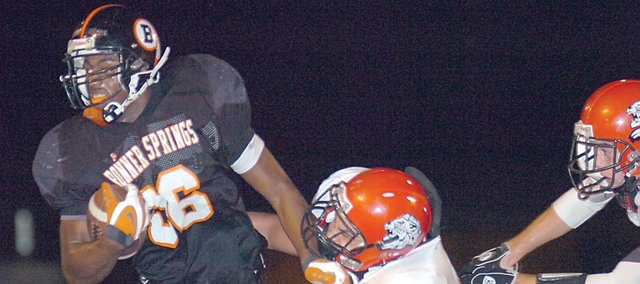 L.T. Lee saved his best for last when he was a football player at Bonner Springs High School.
From his freshman through junior seasons, Lee suffered through losing seasons and team goals that were never quite met. Then, as a senior, Lee — along with several of his classmates — delivered a breakthrough year in which the Braves finished 8-2 and advanced to the Class 4A state playoffs. His performance that year resulted in a football scholarship to Missouri State University and a chance to play four more years of his favorite sport.
Now, with two seasons of college football under his belt, Lee is ready to ascend into another leadership role as he enters his final two years at Missouri State. After playing primarily as a backup safety for the Bears during his redshirt sophomore season, Lee will get the opportunity to earn a starting spot on defense next fall as Missouri State loses 20 seniors to graduation, most of them starters.
"Next year should be my coming out year," Lee said. "I'm excited to get to show my talents.
"I think my speed and my ability to cover guys are my best skills, but I can definitely fill the box, too."
Speed certainly is one of Lee's greatest assets. He was a member of Bonner Springs' 400-meter relay team that set a Class 5A state record and ran the third-fastest time in Kansas history at the 2008 state championships. That speed helped him earn his way onto the field during his first two years with the Bears. Once on the field, he has honed his football skills.
Lee definitely has experience on his side. During the 2010 season, Lee earned two starts — at Kansas State and at Murray State. Against the Wildcats, Lee's opportunity came when the Bears' starting safety went out with an injury on the first play of the game. So Lee was thrust into the spotlight against an NCAA Division I opponent.
"It was a great experience," Lee said. "It was very different from last year when I helped out mainly on special teams. It was especially fun against K-State since it was a local conference. The whole first half my head was spinning. Then I settled down at halftime and got my head right."
Though Missouri State is an NCAA Division I-AA program, Lee said he didn't feel overwhelmed by playing at an NCAA Division I school — even one with a football program as good as the Wildcats.
"There's a difference level in talent there, sure," Lee said, "but I feel there's really no other difference between us and them. We all work hard at what we do."
However, Lee did notice a considerable difference when he stepped from the playing fields of Bonner Springs High School onto the college field in Springfield, Mo.
"The main thing is the speed," Lee stated. "The whole thing is that college football is so much faster than high school football. Everyone in college football was the best player at their high school, and that's what you're up against."
Though ready to make the leap to college starter, Lee hasn't left Bonner Springs far behind him. He still keeps in touch with several players from his senior team and gets together with them when he can, but for now the health and wellness promotion major is enjoying his college experience.
"I really like Missouri State," Lee said. "It's a great campus; a great community; a great college town. The coaching staff is great."