MLK

celebration set for today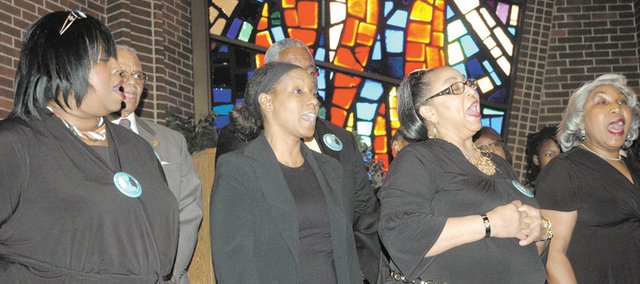 As always, the annual Martin Luther King Day Celebration in Bonner Springs will promote unity, but this year organizer Kay Shevling wants to highlight unity among religions, not just races.
She says that's how Martin Luther King Jr. would have wanted it.
"Martin Luther wanted everyone to get along together; it wasn't just the blacks and the whites," Shevling said. "His dream was just for everyone to be friends and to be civil with each other, to support each other and so on."
To uphold this theme of religious unity, the 23rd annual celebration, set for 1 p.m. Monday, Jan. 17, at Bonner Springs First Christian Church, will be a little different this year. Instead of one keynote speaker, the main address will be made up of comments from a panel of three people from different religious backgrounds. Ahmed El-Sherif is a Muslim and founder of the American Muslim Council of Greater Kansas City. Regina Stillman is a Christian and an ordained pastor with Foster Memorial Church and Out of the Ashes InterFaith Fellowship. Sheila Sonnenschein is Jewish and a freelance writer and founder of a kosher food pantry in Overland Park.
All three are members of the Greater Kansas City Interfaith Council, which promotes unification among religions. The panel will be moderated by the Rev. Vern Barnet, who is the founder of the organization. Shevling said the discussion would center on how religions should celebrate their similarities, not be divided by their differences.
She said the celebration had featured a panel several years ago made up of people who had worked at one time or another with Martin Luther King Jr. This year's panel, however, will add something unique to the event, she said, noting she hoped it would be welcomed by the community.
"I expect it to be positive. I've talked to people outside the community, and a lot of people want to come. My worry is that we'll have more people than we'll have room for," Shevling said. "Because it's something different and it's something that fits what we're going through right now. Someone said that religion is the best thing to bring people together in this country, but it's also the best thing to separate them … and I've heard that from a lot of people."
The event will also feature performances from the Rosewood and Clark Middle School choirs, and a speech from 6-year-old Joelle Kimbrough, granddaughter of Mary Kimbrough, who is president of the Bonner Springs chapter of the NAACP. A "singspiration," where all attendees are invited to sing songs of praise together, will be led by Gloria Owens.
"Well I think it's going to be one of the most exciting ones we've ever had, because it's something that people will experience things they haven't experienced before," Shevling said of the celebration. "I really do think this is going to be great, and I think that people will learn from it."