Quick-thinking son saves mother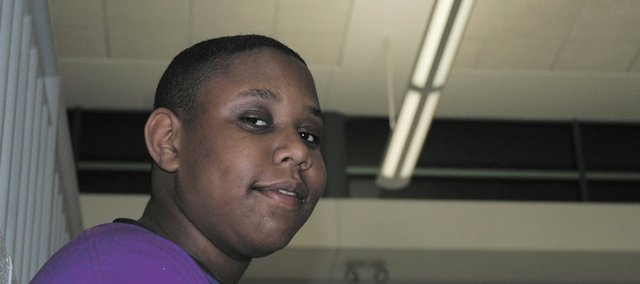 A fast-acting Bonner Springs teen was able to save himself and his mother from their burning car last week.
Lorna Simms-Carter said it was a miracle her son was able to get himself and then calmly get her out of their car on New Year's Eve when a fire started in the engine on an area highway. The act is even more notable because Simms-Carter is disabled, so getting in and out of the car is no easy feat for her.
"I think my son is a hero, because he just sprung into action," Simms-Carter said. "He's only 14 years old, but he knew he had to get his mother to safety."
Simms-Carter took her son, Johnathan Carter, to Children's Mercy Hospital on New Year's Eve to see if he had strep throat. They were returning home westbound on Interstate 435 about 6:45 p.m. when Simms-Carter said her car began to shoot sparks from underneath the front hood. She pulled from the center lane over to the shoulder near the Quivira Road exit.
"By the time I got to the shoulder, it was engulfed in smoke, and then it started blazing," she said.
Simms-Carter requires the use of a walker, so Johnathan quickly sprinted around the car, retrieved the walker and set about helping his mother get out of the car.
"He had a little trouble getting me out of the front seat, and by the time he got me out, the car was starting to be engulfed in flames," she said.
By then, a few other motorists pulled over to assist, so Johnathan helped his mother to one of their cars about 500 feet away.
"We thought it may explode, because it really started to burn," Simms-Carter said.
Simms-Carter estimated it was about 10 minutes from the time she pulled over to when the Overland Park Fire Department arrived on the scene. By then, the fire had spread to the rear of the car, destroying the new lift Simms-Carter had just installed for a scooter.
By the time the fire was put out, Simms-Carter said her car was unrecognizable. In their haste to get out of the car, she and Johnathan had forgotten her purse, which held about $500 cash.
Simms-Carter said the firefighters took the time to sort through the rubble and found the melted-plastic purse, which thankfully still had her billfold with her ID and the pouch with her money intact.
"I am grateful and completely thankful for God protecting me for one, and for the people he put in my path," Simms-Carter said.
Simms-Carter said it was unclear what caused the fire in the car, a 1999 Toyota Camry. She said she just had the oil changed a week before, and the car hadn't shown any signs of problems since it was repaired from an accident a few years ago. She said the gauges didn't even show that it was overheating as she pulled off the highway.
Mary Kimbrough, friend of the family, said Johnathan's heroism is to be praised. As someone who has assisted Simms-Carter with her mobility in the past, Kimbrough said she knows it took quick thinking and careful actions to get her to safety.
"It's just miraculous that he was able to get her out," she said. "I got the chills just thinking about it."
While it wasn't the ideal way to spend New Year's Eve, Simms-Carter said the incident is causing her to count her blessings.
"Even though you may have the struggles that you went through, Johnathan and I are alive and we are starting the New Year together," she said.