Church ministers through free garage sales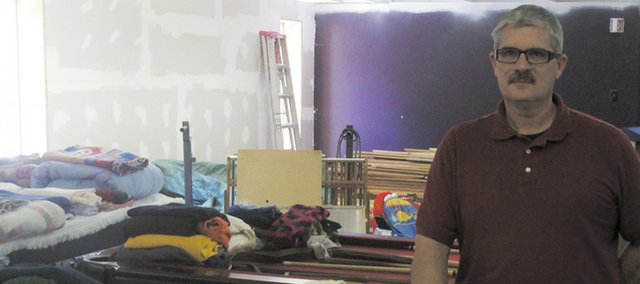 One Bonner Springs church would like to expand a new effort to provide clothing, toys and other household goods for those in need — no questions asked.
Members of the Bible Baptist Church of Bonner Springs, 426 Emerson Ave., began the program they call "Neighbor Helping Neighbor" last year. They collected donations over several months and then opened their doors to anyone who needed the items, no questions asked, in a free garage sale of sorts. Pastor Ed Fuller says as they gear up to have the event again this year from 8:30 a.m. to noon Aug. 6, they hope to spread the word to both gather more donations and help many more.
Fuller said he got the idea for the program last year from his brother-in-law, who serves as pastor at a church in Baldwin City and has offered a similar program for several years.
"He told me about certain people who really benefited by it, and last year, there were quite a few people who came," Fuller said.
To expand this year's event, the church is looking for new or gently-used items of all kinds, from clothing and toys to furniture and kitchen appliances, from the community at large.
"Anybody who wants to donate an item, we just funnel it to someone who can use it," Fuller said.
This year's event already is growing, with several church and community members donating larger items, like a couch, pool table and air hockey table.
"We want to make it so that people in the neighborhood, if they want to give something and don't know what to do with it or where to take it, they know we're going to give it to someone who could use it," Fuller said. "We got a refrigerator a week ago when (the owner) heard about this."
The influx of items has kept church volunteers busy organizing them for the giveaway, and Fuller said he was thankful church members were so supportive of the event.
Fuller said the church had the giveaway event at the end of the summer because most people are done with garage sales and willing to donate items that didn't sell, but others may be looking for items as their children head back to school.
That's why this year, the church would like to get donations of some back-to-school items — school supplies as well as children's clothing.
Last year's event was not heavily promoted, but the turn out reinforced the need for the program.
"We had a lot of people come," Fuller said. "It was the first time, so we didn't know (what to expect)."
The church will be accepting donations from 9 to 11 a.m. and 5 to 7 p.m. Aug. 4 and 5 at the room where the giveaway event will be. Those who would like to donate items outside of those hours can contact Fuller at 233-6336 or via the church's website, biblebaptistchurch57.com.