It was from 'Big House to the Big Leagues' for four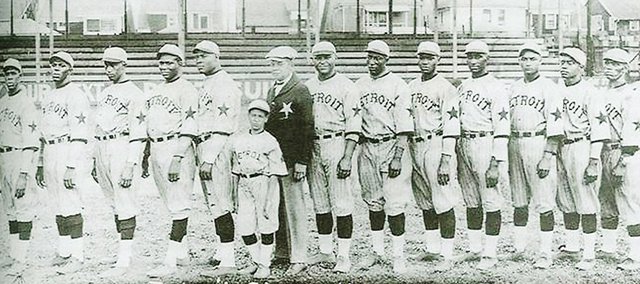 Before David Wingfield could make it to professional baseball, he had to kill a man first.
Roy Tyler participated in a lethal race riot. Joe Fleet broke into a home. Albert Street was booked for cocaine possession.
For each, the U.S. Penitentiary at Leavenworth in the 1920s became the site of their first experience playing baseball. Hours spent practicing and playing for the prison's all-black team, the Booker T. Washingtons, led to opportunities in the Negro Leagues.
The four are the subject of "From the Big House to the Big Leagues," a presentation at 7 p.m. Tuesday, June 14, at Shawnee Town Museum.
It began as a side project for the event's speaker, Eisenhower Presidential Library director Tim Rives. He said he became interested in Leavenworth prison records while working for Kansas City's branch of the National Archives.
What Rives — a self-professed fan of obscure sports information — discovered were four stories that began tumultuously, had their brushes with success (or further trouble) and eventually ended mysteriously.
Rives said the four subjects of his research acquired their skills on the diamond by practicing up to four hours a day and playing up to three games a week.
"There really wasn't much for them to do," Rives said, adding that baseball provided a peaceful activity that occupied prisoners and satisfied guards.
Both Tyler and Wingfield were members of the Buffalo Soldiers' 24th Infantry Regiment, a segregated unit of black Army soldiers. Tyler would spend up to seven years in prison for mutiny, a sentence earned during his participation in a 1917 Houston riot that ended in the deaths of 15 white soldiers and the execution of about a dozen Buffalo Soldiers.
Wingfield's sentence was not related, however. Rives said Wingfield landed a 10-year sentence for manslaughter after a payday shootout over a woman left a man dead and Wingfield with three bullet wounds.
A member of the Society for American Baseball Research, Rives previously discovered that Tom Baird, former co-owner of the Kansas City Monarchs, was once himself a member of the Ku Klux Klan in the 1920s.
Rives said the findings he would present Tuesday were a result of prison records, Leavenworth's prison newspaper, African-American press archives from Kansas City and Chicago and social security archives. Rives said he also consulted with area Negro League historians, including the co-founder of Kansas City's Negro League Baseball Museum, Larry Lester.
After Leavenworth, each of the four spent time with the Chicago American Giants, owned and managed by one of the Negro Leagues' most notable figures, Rube Foster. Still, each owed different sets of circumstances for their shot.
In his research, Rives discovered that Tyler's friendship with heavyweight boxing champion Jack Johnson may have connected him with Foster.
Rives said Tyler's and Johnson's sentences overlapped for about a year. In the Leavenworth New Era, a prison newspaper, Rives read stories of the two working together, playing dominoes together and even sparring together. Rives believes it was Johnson who encouraged Tyler to further develop his athletic skills.
Rives also discovered a correspondence log of more than a dozen letters between the two once Johnson left prison. He said Johnson's friendship with Foster — the two once played baseball together — helped Tyler eventually earn a tryout with the Chicago American Giants.
Rives said both Tyler and Fleet were actually paroled from the prison to the ball club in an unprecedented move. Before Rives' research, he said, most believed the parole of Ron LeFlore from Michigan's state penitentiary to the Detroit Tigers — portrayed in a 1970s made-for-television movie — was the first of its kind.
Of the four, Rives said, Wingfield had the most success at the professional level. His batting average in the Negro Leagues was .282 over four seasons, above average at the time.
Tyler spent about three years in the pros. Street and Fleet didn't make it past tryouts.
Afterwards, Rives said, Tyler eventually returned to Leavenworth for a 4-year sentence for violating his parole. He died at 84 while working as a part-time caretaker at a Boy Scout camp in Michigan.
Street lived to about 90 years old, Rives said. According to Negro Leagues historians, he was a mainstay in the Midwest semipro baseball circuit throughout the 1920s and 1930s.
What happened to Wingfield and Fleet after the Negro Leagues, Rives said, is unknown.
"Once you get past that official paper trail, those guys are really slippery," Rives said. "It would be great to find out what happened to all of them."
Rives said he saw irony in the prisoners' success playing baseball at Leavenworth.
"(Guards) were introducing recreation as a way to kind of nullify inmates," Rives said. "And these inmates took something that was being used as a kind of prison control and used it for their personal development and liberation."