USA

's Dempsey says

KC

 stadium, atmosphere stack up internationally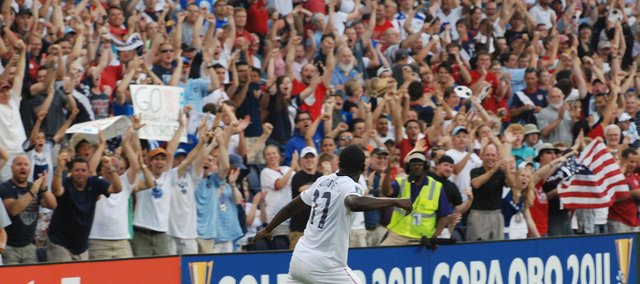 Kansas City, Kan. — Clint Dempsey has seen it all during his professional soccer career.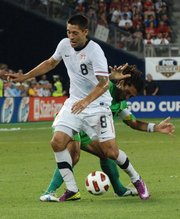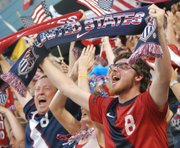 After a three-year stint with the New England Revolution in Major League Soccer, the attacking midfielder jumped to the English Premier League and is now in his fifth season competing for Fulham Football Club. He also has played — and scored — in two FIFA World Cup tournaments for the United States Men's National Team, first in 2006 in Germany and then in 2010 in South Africa.
He has played on the biggest stages in soccer-crazed countries, and he sees that same attitude beginning to take hold in the United States.
Dempsey needed to look no further for evidence of that than his surroundings Tuesday at LIVESTRONG Sporting Park where he and the national team defeated Guadeloupe 1-0 in the final game of Group C competition in the CONCACAF Gold Cup.
Dempsey watched Thursday's stadium opener on ESPN2 when Sporting Kansas City and the Chicago Fire played to a 0-0 draw in front of a standing-room-only crowd of 19,925 in the 18,467-seat stadium.
The stadium turned into a virtual sardine can for Tuesday's game when 20,109 fans squeezed into the stadium to watch Team USA.
"It's unbelievable, man," Dempsey said. "It shows that soccer's growing and moving in the right direction. It makes for a great atmosphere, and I just think the game here in Kansas City's going to grow. I think the future's looking bright for (Sporting KC). I see them doing well in the future."
Dempsey remembered playing games at Arrowhead Stadium during his time with New England. He made it clear it's better at LIVESTRONG Sporting Park.
"I remember when I used to play in MLS playing against the Kansas City Wizards (now Sporting KC), playing in the Chiefs' stadium there would be hardly any fans out there," Dempsey recalled. "So to come here tonight, and watching the game on TV where Kansas played against Chicago and seeing how packed it was, I think the future looks bright for the team here."
When asked how LIVESTRONG Sporting Park stacks up to other global venues where he has played, Dempsey ranked it with the best.
"It reminds me of the European atmosphere because when the bench seats (go) into the stands, it makes the fans feel closer to things," he said. "It was a great atmosphere tonight."
By defeating Guadeloupe 1-0 on Tuesday, the United States finished second in Group C and advanced to the Gold Cup quarterfinals. USA will play Jamaica at 2 p.m. Sunday at RFK Stadium in Washington, D.C. The United States last won the Gold Cup title in 2007.